Home
»
Sony Ericsson
»
Sony Ericsson Zylo black
»
Reviews
Sony Ericsson Zylo black Review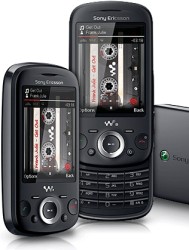 The Sony Ericsson Zylo is marketed up as a mobile for music lovers, but its does lack some key features. For instance it does not have a standard 3.5mm headphone jack (using a proprietary headphone port), or USB socket, but thankfully it does have a microSD card slot that supports up to a 16GB which at least gives one method of getting music onto the phone quickly.

The phone is pretty chunky for a modern smartphone at 103mm x 52mm x 11.5mm, but it's easy and comfortable to hold in your hand, it's not light either at 115g. On first impressions the phone is dominated by the 2.6 inch QVGA screen with 240 x 320 pixel resolution. It's a nice, vibrant screen with bright colours, typical Sony.

It does have a decent MP3 player and the music quality is good even with the basic included headphones. But, like most Sony Ericsson phones, the Zylo is packed music features such as TrackID and A2DP Bluetooth. There are also widgets for displaying updates from Facebook, Twitter and MySpace. The keypad has decent sized buttons for accurate texting, but of course texting would be much better with a Qwerty keyboard or a touchscreen and the Zylo has neither.

The Zylo has no Wi-Fi either, so downloading music or streaming video can be costly depending on the data allowance on your contract. However HSPA allows fast speeds over 3G. Another omission from the Zylo armoury is GPS. Even though Google Maps and geo-tagging are both supported they use the much less accurate method of mobile triangulation. The  Zylo is equipped with familiar NetFront browser, when you first load the browser there is a nice Sony Ericsson introduction screen, where you can choose to either search via Google, enter a URL or select a saved bookmark.

This handset is good looking and feels solid, has a familiar user interface, features HSPA, has a great FM radio and expandable memory card slot. Of course it lacks some high-end features, but the Zylo is an inexpensive phone. Despite being a decent music phone in terms of music sound and quality, the lack of standard headphone socket or USB port is a major disappointment. In many ways the Zylo is in competition with another phone in the same price bracket - the Sony Ericsson W995, which has some of the high-end features the Zylo is missing, like Wi-Fi and a standard headphone jack.

| | |
| --- | --- |
| | |
Submit Your Own Review!