Home
»
Sony Ericsson
»
Sony Ericsson Xperia X8 black
»
Reviews
Sony Ericsson Xperia X8 black Review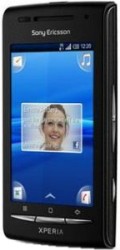 The Sony Ericsson Xperia X8 falls between a Sony Ericsson X10 and an X10 mini in tems of price and capabilities, but this cost cutting leads to many compromises. For instance the cramped user interface that worked on the X10 mini, looks tiny on the X8's much bigger screen and is sluggish to use. The X8 runs version 1.6 of the Android operating system whereas the latest mobile phones use Android 2.2. This means you dont get the latest Android experience, such as support for multiple Google accounts and Exchange email. Though its true to say if you've never experienced the latest Android features then you won't miss them, especially as Sony Ericsson has overlayed their own user interface on top of Android.

The entire user interface has been taken from the X10 mini, the same 2.5 inch screen. This means the screen can only display one widget at a time, unlike most Android phones, even with this limitation the icons still look blurry due to the 320 x 480 pixel HVGA resolution. However, you do get a full Qwerty on-screen keyboard and it's one of the best virtual keyboards available.

Despite the older version of the Android operating system, the Android on the Sony Ericsson Xperia X8 still offers lots to enjoy. You can still access tons of apps on the Android Market, including popular services like Facebook and Twitter. You also get Timescape, a Sony Ericsson widget that brings together texts, email and tweets into a single stream. Unfortunately the X8 doesn't have Mediascape, Sony Ericsson's photo, music and video app for Android phones that was so impressive on the X10.

Connectivity is good, with Wi-Fi and HSPA for fast browsing over 3G networks. There's even GPS on board for navigation. The Sony Ericsson Xperia X8 does a good job as an inexpensive music phone. External speakers are loud and the earbud type headphones included in the retail pack are quality. In fact many users prefer these in-ear items to the more expensive items that come with the iPhone.

The Sony Ericsson Xperia X8 is a decent, cheap Android phone, but it does feel slightly outdated. The X8 isn't a bad phone, but there are many great budget Android phones out there now for the same price. In summary, it's far from a terrible phone, but that interface lifted from the X10 mini does not do it justice. But you do get an Android phone for next to nothing with a good music player and great earphones.

| | |
| --- | --- |
| | |
Submit Your Own Review!