Home
»
Sony Ericsson
»
Sony Ericsson Xperia Ray
»
Reviews
Sony Ericsson Xperia Ray Review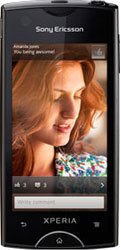 The Sony Ericsson Xperia Ray bucks the recent trend with small phones going out of fashion. Before the iPhone, manufacturers seemed to be falling over themselves to miniaturise their handsets. Recently with smartphones all the rage, there has a need for ever larger screen sizes. But Sony Ericsson seem to have found a niche in the market and have launched a compact candybar phone with no keyboard and a 3.3 inch screen. The Sony Ericsson Xperia Ray is small enough to fit into any pocket and be forgotten about. It's solid, well-built and has a nostalgic feel about it. Like its siblings the Xperia Play, Xperia Arc and Xperia Neo, the Ray runs Android 2.3 Gingerbread, and although no longer the most up to date version of this operating system, it works fantastically well.

The Xperia Ray, despite the smaller screen, is almost the equal of the iPhone with a 297ppi display (just 29ppi fewer than the iPhone 4 with its Retina display), that excellent 854 x 480 pixel resolution is squashed into a 3.3-inch unit and the result is one of the crispest, most detailed screens on the market right now. It's actually good enough to immediately stand-out from other mobile devices.

The Sony Ericsson Xperia Ray is so small it fits in your hand like one of the older generations of iPod Nanos, it is hard to believe you have so much technology available in such a small package! There is virtually nothing detrimental to say about the Xperia Ray. It's compact, gorgeous, lightweight and has a decent sized battery that will get you through a full day on a single charge. The screen offers exquisite detail and brilliant colours from that 3.3 inch LED-backlit LCD display, and you get a great 8 megapixel camera, along with Wi-Fi, GPS and Bluetooth. As a mid-range Android phone, the Sony Ericsson Xperia Ray takes some beating. The highlights are the super-slim frame, 8 megapixel camera with 720p video recording, Android 2.3 Gingerbread software and the aforementioned display. But the Xperia Ray does pretty much everything well, there are no glaring omissions or annoying design glitches. Perhaps the only minor issue is that the small size of the phone means that typing is not as easy as the larger screened smartphone monsters out there like the HTC Titan and Samsung Galaxy Note, but then the small size is part of the Xperia Ray's charm. If you're not worried about having a massive display, then the Xperia Ray is something of a steal in this market segment. The sheer amount of high-tech included is amazing, and it's all wrapped up in a stylish wafer-thin frame that will slip easily into any pocket and looks cool too!

| | |
| --- | --- |
| | |
Submit Your Own Review!