Home
»
Sony Ericsson
»
Sony Ericsson Xperia Play
»
Reviews
Sony Ericsson Xperia Play Review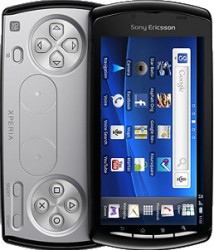 The Sony Ericsson Xperia Play is a fusion of gamepad and Android phone also known as the PlayStation phone. In a way, the Xperia Play is actually competition for other Sony gaming offerings like the much anticiapted NGP and the much loved PSP. In addition, the Xperia Play is competing against some fantastic Sony Ericsson Android handsets such as the Xperia Arc.

Being a gaming oriented handset, the main feature is of course the slide-out game controller section. This features a D-pad, which is familiar to all PlayStation users, with face buttons, touchpad "thumbsticks", two shoulder buttons and menu keys. The Xperia Plays has an accelerometer on board for gaming on the superb four inch 480 x 854 pixel  screen. All this gaming hardware is powered by the 1GHz Snapdragon processor featuring Adreno 205 GPU graphics, 512MB of on board RAM and Android 2.3 Gingerbread. The Android 2.3 Gingerbread operating system makes the Xperia Play fast and quick in use, with very little lag when switching apps or functions.

Although the Xperia Play does not have any built-in social networking services, you can download apps from the Android Market for Twitter and Facebook which will satisfy all your social networking needs. On the back of the handset you will find a 5.1 megapixel camera with LED photo light which takes good, clear pictures without fuss. The performance of the battery is average lasting around a day with heavy usage.

The first impressions when you pick up the Sony Ericsson Xperia PLAY are the size, At 119mm x 62mm x 16mm and weighing 175g, the Xperia Play is not a compact phone by any stretch of the imagination.This handset will feel far too large for most if you are used to the modern ultra-slim smartphones. The Sony Ericsson Xperia Play's hardware is good and compares well to rival handsets. But gaming aside, the Xperia Play is little more than a really chunky Android phone with nothing additional to offer. If you are not a serious gamer, there are many slimmer less bulky Android phones available. The build quality is good (particularly the slider mechanism), it's fast and smooth, and of course it allows the best gaming experience available on a mobile phone. On the downside, the game experience is nowhere near as good as a dedicated console. If you want a decent smartphone with gaming capabilities, the Xperia Play may be a good fit, that extra bulk actually suits a game console.

| | |
| --- | --- |
| | |
Submit Your Own Review!