Home
»
Sony Ericsson
»
Sony Ericsson Xperia Neo red
»
Reviews
Sony Ericsson Xperia Neo red Review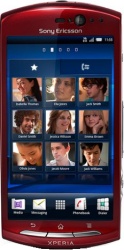 The Sony Ericsson Xperia Neo features an excellent camera, bright touchscreen and all the Android smart phone capabilities. The Xperia Neo looks similar to the Xperia Play with the same rear bulge, making it comfortable to hold, although the Neo surprisingly lacks the standard Android search button. Available in Blue or red. Unlike other Sony Ericsson models which seem to be moving towards the 4 inch screen standard, the Neo sticks with 3.7 inches, which is this example is completely acceptable for all smartphone tasks.

Like other Sony Ericsson models, the Neo runs Android 2.3 Gingerbread operating system. This latest version of Google's mobile operating system is the fastest and most powerful yet. On top of Android you also get Sony Ericsson's user interface including the social network stream "Timescape". However many prefer the Android 2.3 OS without any interface enhancements from mobile phone manufacturers. But in this case, Sony Ericsson's Android skin is relatively unobtrusive.

With it's single core 1GHz processor, the Neo is not hugely powerful compared to other high end smart-phones, particularly handsets like the HTC Sensation and Samsung Galaxy S 2. But the Xperia Neo is perfectly capable of running all the latest games and apps from the Android Market. The Neo has a Sony Exmor R 8-megapixel camera, which takes great images even in low-light conditions with excellent overall quality. The camera on the Sony Ericsson Xperia Neo is so good that it rivals the Samsung Galaxy S2 for photographic quality. Battery life is average for a high end smartphone and you should expect to charge it at least once a day.

The Sony Ericsson Xperia Neo is an excellent smart phone which holds its own in any smartphone company, with an excellent touchscreen, superb 8-megapixel camera with HDMI output and 720 pixel video recording. In fact to find any real downside to the Sony Ericsson Xperia Neo, you really have to nitpick, perhaps the chassis could feel more substantial and less plasticky, and the MicroSD slot is poorly designed, sometimes to remove the card it's so fiddly to loosen it you end up simply turning the phone upside down and literally shaking it out into your hand. Those minor niggles aside, the Xperia Neo is a class act. If you require a smartphone essentially as an all-in-one communication tool, then you'll find a lot to like about the Neo. The price is extremely competitive and the flaws are minor.

| | |
| --- | --- |
| | |
Submit Your Own Review!