Home
»
Sony Ericsson
»
Sony Ericsson Spiro white
»
Reviews
Sony Ericsson Spiro white Review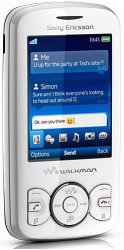 Sony Ericsson is hoping to capture the hearts of music loving consumers with the new Spiro. This compact mobile phone has impressive looks and is priced very competitively, however, as you would imagine, some corners have been cut to allow such a reasonable price. Sony Ericsson used to be renowned for their music phones and devices, but in recent times the Walkman range isn't the force it used to be. The introduction of handsets like the iPhone have really altered the playing field.

In recent months Sony Ericsson has allied itself with Google's Android operating system in an attempt to again produce handsets which are high end music devices. But the Spiro uses Sony Ericsson's proprietary operating system unlike the Android-packing Xperia X10. Sony Ericsson's new Walkman 4.0 software is impressive and a huge improvement. Connecting to the PlayNow repository is simple and allows you to download music/ringtones or games directly to the handset's internal memory. The Sony Ericsson Spiro features an alphanumeric keypad, revealed by sliding the phone open. The keypad has large and tactile buttons and is a real joy to use with its big, friendly buttons. Unfortunately the Spiro comes with a paltry 5MB of internal memory, so using a microSD card is a must if you are a big music fan. The included headphones are poor, but luckily the standard 3.5mm jack allows you to use your favourite aftermarket headphones.

According to Sony Ericsson, the remit for the Spiro was to successfully fuse music and social networking. To this end the Spiro comes with basic Twitter and Facebook apps although it has to be said they don't match the apps available on iPhone and Android.

The camera is not exactly high tech with just 2 megapixels and no flash. In fact camera is possibly the weakest element of the entire Spiro package, but it's fine for quick snaps but anything beyond that is probably pushing it.

The Sony Ericsson Spiro has a modest specification, it's clear that this mobile isn't intended as high end device. But the pricing is incredibly cheap with some retailers offering the Spiro on a pay as you go basis of just £40, so you can excuse most of the shortcomings. Even taking into account the poor camera and stingy internal memory, the Sony Ericsson Spiro remains a decent phone, thanks to its impressive quality and decent music player. At half the price of the Zylo, the Spiro makes perfect sense and you can forgive the absence of Wi-Fi, basic camera and teeny internal memory.

| | |
| --- | --- |
| | |
Submit Your Own Review!