Home
»
Sony Ericsson
»
Sony Ericsson Satio black
»
Reviews
Sony Ericsson Satio black Review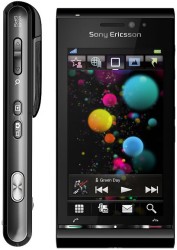 With the Satio, the aim of Sony Ericsson was to take its excellent Cyber-shot camera phones, and blend that technology with their Walkman music phones, to create a super phone. In this regard, they have largely succeeded. The camera certainly does not disappoint. A 12.1 megapixel unit that takes probably the best shots from a camera phone ever seen, helped no doubt by the LED photo light and xenon flash. Sony Ericsson's Walkman phones have been praised for many years for their music performance, and the Satio follows this tradition by pumping out tunes with volume and clarity.

The specification of the Sony Ericsson Satio smartphone is seriously impressive, with that range topping 12.1 megapixel camera with Xenon flash and the large 3.5 inch touchscreen display and an intuitive interface - the Sony Ericsson Satio is a well equipped smartphone with a host of useful features.

basically, if you're looking for an awesome camera phone, you won't be disappointed with the Satio. In terms of audio and video experience, it's not quite as good, but can certainly hold its own against the best media phones. The Satio is definitely a premium looking handset with an expensive sense of build quality. It actually weighs only 126g, meaning the heaviness is a result of the quality of the materials used. The Symbian operating system, although based on the latest version S60 v5, is still quite buggy when compared to the best of the Android and Apple handsets. The interface is perfectly good in isolation however, it only seems to fall short in some direct comparisons.

If you're looking for the best camera phone on the market, the Satio could well be the handset for you. But, camera aside, other touchscreen phones can be more fun to use, such as the iPhone or HTC Hero, however neither of those can match the Satio camera, so if photographic capability is really important to you, the Satio makes a great choice.

The handset is phenomenally successful as a photographic device, but it lacks excellence in some other areas. It is not a bad handset by any means, it's just that the camera is so awesome the rest of the phones hardware pales in comparison.

| | |
| --- | --- |
| | |
Submit Your Own Review!