Home
»
Sony Ericsson
»
Sony Ericsson Mix Walkman black
»
Reviews
Sony Ericsson Mix Walkman black Review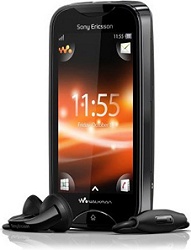 The Sony Ericsson Mix Walkman is a budget Walkman-branded mobile phone featuring a 3 inch capacitive touchscreen with a real focus on mobile music. This segment of the mobile market is becoming increasingly competitive with budget phones like the Orange San Francisco, Samsung Galaxy Europa and Huawei Blaze all offering decent performance for little cash, so can the Sony Ericsson Mix Walkman live up to its Walkman branding? The Walkman music software is certainly accomplished and the included headphones are decent, but similarly priced handsets also offer decent audio playback. When the standard of the mobile competition is so high at the lower end of the price range, the Sony Ericsson Mix Walkman needs more than just a decent music player to succeed.

The Mix Walkman isn't a smart phone, more of a feature rich phone that uses an interface very much similar to the Sony Ericsson Xperia Mini. Sony Ericsson have done a great job making use of this small, 3-inch touchscreen by pinning useful shortcuts into the four corners of the display. The default options for these shortcuts are music player, text message archive, dialling pad and contacts list. But you can of course customise these shortcuts if you wish to. The Friends app is an attempt by Sony Ericsson to lend the Mix Walkman some social networking capabilities, allowing the linking to contacts on Facebook and Twitter accounts. It looks pretty cool with the widget displaying your contacts as floating squares, and it largely works, but no better than similar apps from competitors.

The 3 inch capacitive touchscreen is decent for a phone of this calibre, the display benefits from decent brightness and good colour depth. The overall resolution of 240x400 pixels isn't bad in this price range either. But, the lack of an on-screen Qwerty keyboard coupled with the small screen size makes typing a bit of a pain.

The Mix Walkman is constructed almost exclusively from plastic (not a huge surprise considering the price). The battery cover at least boasts a rubberised texture that improves grip and imparts a quality feel, there's also a fake metallic accent that runs around the phone's sides. The 3.2 megapixel is pretty basic with no LED flash or autofocus. But at least it has a dedicated physical button which makes it quick and easy to take snaps.

The phone's music player, as you would expect from the Walkman branding, is robust with dedicated Walkman controls on the top of the handset. The bundled headphones included in the retail box are excellent with plenty of bass and above-average sound clarity and the 3.5mm headphone socket means you can use your own if you prefer. There is no microSD card included with the phone however, a card slot is present but you have to buy your own - which is a little annoying even on a budget phone.

| | |
| --- | --- |
| | |
Submit Your Own Review!