Home
»
Sony
»
Sony Xperia U black
»
Reviews
Sony Xperia U black Review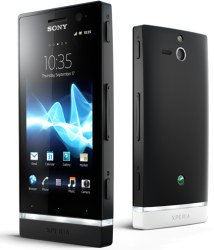 The Sony Xperia U is the runt of the litter in the new Sony Xperia range. It's much smaller than other new phones on the market such as the HTC One X. But, though it may be lacking in stature, it makes up for the diminutive size by being a mini powerhouse sporting a 1GHz dual core chip. Sony is the new brand name for the Xperia range of mobile phones now that the Ericsson name has been dropped after a Sony buyout. Though small the Xperia U is hard to miss thanks to funky coloured lights which illuminate the transparent strip at its base and a range of swappable coloured bottom caps. This transparent strip pulses with different coloured lights which take their cue from the display, colours are selected to match the hues of whatever you are looking at, for example photos from the gallery you are viewing or if you are listening to music then the music album art is used as a reference. The Xperia U makes a goodmp3 player with rich audio and up to 45 hours of playback from a single battery charge.

The 3.5 inch screen on the The Xperia U is the same size as Apple's iPhone 4S. Powered by the Sony Bravia TV technology, colours on the Xperia U look rich and vibrant. There is a decent (for a mid-range device) 5-megapixel camera and a front-facing camera for video calls. At launch the Xperia U will be running Android 2.3 Gingerbread, It's a pity Sony hasn't seen fit to offer the latest version of Google's operating system, Ice Cream Sandwich. However, Sony have promised the Ice Cream Sandwich update by end of summer 2012, so hopefully owners wont have to wait too long.

With a that 1GHz dual-core chip powering a smallish screen, the Xperia U is slick in operation and feels quite nippy, this is a very responsive handset indeed. The price at launch means that the Xperia U will be the cheapest device in Sony's Xperia range. For Android fans looking for a mid-range handset that doesn't compromise in terms of power and performance, the Xperia U is a serious contender offering a lot of power in a funky, compact package with those snazzy "mood lights".

This Sony Xperia U on test came in Black with a range of interchangeable bottom caps in white, black, pink and yellow. The only downside is that there is no memory card slot so you have to rely on the handsets 4Gb of on-board storage, for most this will be more than enough, but if you are the sort of person who likes to carry a large music and video library around, then you may find 4Gb is simply not enough space.
| | |
| --- | --- |
| | |
Submit Your Own Review!