Home
»
Sony
»
Sony Xperia S black
»
Reviews
Sony Xperia S black Review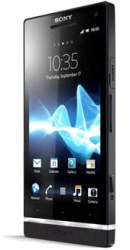 If you're in the market for a high end Android smart phone, the Xperia S should certainly be on your short list. It has a gorgeous HD screen which manages to display pixel-perfect text and video with vibrant colour. It is however slightly annoying that it is shipping with Android's Gingerbread operating system at launch and you have to wait for an update to Ice Cream Sandwich despite the fact that Sony has a substantial music, movies and TV back catalogue of its own so you don't have to rely on the Android Market/ Google Play. In addition there is soon to be a PlayStation store on the Xperia S for games downloads. You can of course use the Android store in the normal fashion but Sony Entertainment Network offer an additional back catalogue of music, films, TV shows and games.

The screen on the Xperia S is an HD 1280 x 720-pixel capacitive display measuring 4.3 inches and offering high levels of detail and strong colours. The pixel density is amazing and at 342 pixels per inch is sharper even than the iPhone 4S retina display. The screen uses Sony's Mobile Bravia engine technology to improve the sharpness and saturation of images and videos and is this application it certainly works with vibrant colours and deep blacks. Made of scratch-resistant mineral glass and covered with a shatter-proof plastic sheet, the display is fast and responsive. It's agenerous size too, at 4.3 inches it might not be the biggest screens out there, but the HD resolution means even text-heavy web pages are easy to read without having to zoom in.

Sony has been making a lot of its four screens strategy recently. Essentially they make four kinds of devices with screens - TVs, laptops, tablets and smart phones and Sony are keen to push integration between the devices. For example, you can use the Xperia S as a remote control for a Sony TV and of course the S has an HDMI port to play media from your phone on the big screen. Sony are pimping a range of services on the Xperia S, such as Music Unlimited and Sony's PlayNow Arena. The Music Unlimited subscription service offers over 10 million songs and the Video Unlimited shop is available for buying or renting movies and TV shows. The Sony's PlayNow Arena app store is also pre-loaded if you ever get bored by the huge selection of apps on Google Play (Android store).

The Xperia S has a 12.1-megapixel camera which uses Sony's Exmor R for mobile CMOS sensor and is capable of shooting HD video at 1080p resolution and there's a 1.3-megapixel front-facing camera for video calling. You can even snap 3D photos using a 3D sweep panorama function, though this is not proper 3D as can be found on the LG Optimus 3D. The show is powered by a 1.5GHz dual-core chip. It may not be a quad-core powerhouse like the HTC One X but it's more than enough to offer an impressive and slick user experience matching the likes of the Samsung Galaxy S2 and the Samsung Galaxy Nexus in performance and benchmark tests.

The sound quality on the Xperia S is just as good as you would expect on a Sony device, using Sony's xLOUD Experience audio filter technology and 3D surround sound and you even get a decent pair of Sony earbuds in the retail box. The tap-to-share technology known as NFC is supported too even though NFC is yet to go mainstream in the UK.

In summary the Sony Xperia S has a hefty processor, a gorgeous HD screen, superb audio and a very impressive camera. Marred only by the lack of Ice Cream Sandwich at launch, but no doubt this will be updated soon.
| | |
| --- | --- |
| | |
Submit Your Own Review!