Home
»
Sony
»
Sony Xperia Go black
»
Reviews
Sony Xperia Go black Review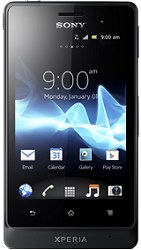 Motorola has been turning out rugged mobile phones for some time, but now Sony have entered the rugged marketplace with the Sony Xperia Go, a compact Android smart phone designed to resist dust, water and everything else an active lifestyle can throw at it! At first glance the handset does not appear particulary rugged, only the sealed port doors indicate it's built to resist water. The phone is light and compact at just 9.8mm thick, and fairly easy to fit into any pocket. The screen is scratch-resistant too so should be able to mix it up with loose change and keys in your pockets without making a mark.

To protect against dust and water ingress, the phone's two ports, one for the 3.5mm headphone jack and the micro-USB port, both have plastic doors protecting them. it's a bit annoying having to flick them off every time you want to plug something in, but necessary to give the phone that coveted resistance rating of IP67. This rating means that the Xperia Go is protected completely from dust, and can handle water immersion up to a depth of 1m for 30 minutes. Of course, the port doors must be closed to offer this protection, if the ports are open and you have headphones or a micro-USB cable connected then all bets are off - if you ant to impress your friends by dunking the phone in a pint of lager make sure the port covers are in place!

The display measures is fairy small at 3.5 inches, with a fairly low resolution at 320x480 pixels (165 ppi), the resolution is probably the phones biggest weakness, the Go is not the best in class for things like web browsing or watching HD videos. This is annoying for a smartphone today. There is a real trade off here between ruggedness and performance - if you don't need a tough phone you would perhaps be better looking at a flimsier phone with a much better screen for the same price. The Go's touchscreen is a bit unresponsive and if you are used to a handset with a decent touchscreen you may find it irritating, however it's perfectly usable, just nowhere near class leading. There is a 5-megapixel camera which is decent but not amazing, but perfectly adequate for Facebook and the like.

The 1GHz dual-core processor powering the Go offers fairly decent performance but is not blazingly fast, with that small screen size and low resolution 1GHz is plenty fast enough most of the time. Digging into menus and using apps like Angry Birds and Facebook are smooth and trouble free, with no big delays. Like most phones in this mid-range segment, the Xperia Go runs Google's Android 2.3 Gingerbread, not the latest version (4.1 Jelly Bean), but at this price perfectly acceptable. Sony have stated that the Go is upgradeable to the newer Android 4.0, Ice Cream Sandwich, but there is no guarantee if or when it will happen.

Android Gingerbread still gives access to most of the good stuff, like Google's Play Store. In addition Sony have pre-loaded a selection of adventure type apps onto the Go such as a compass, pedometer, run monitor, personal trainer and a torch app. If you are an outdoors type (or particularly clumsy), the Sony Xperia Go could well be the phone for you, however if you dont require the extra "ruggedness", there are better phones available for the same money. However, if you really need a phone you can take to the beach or up a mountain without fear of damaging it, the Sony Xperia Go should definitely be on your short list, along with the Motorola Defy+ and the Defy Mini.
| | |
| --- | --- |
| | |
Submit Your Own Review!