Home
»
Samsung
»
Samsung Tocco F480
»
Reviews
Samsung Tocco F480 Review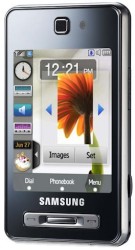 The Samsung Tocco is a stylish phone with a solidly built casing finished in brushed chrome-effect metal. It has a classy and substantial feel though perhaps not quite matching the build quality of class leaders like the iPhone. On the front of the handset the 2.8 inch touchscreen dominates with little in the way of buttons below and just a video call camera above. The screen, though smaller than the current crop of smartphones, is actually quite beautiful, not so big it requires a huge chassis to house it, but not so small that it's hard to read or use.

The 5 megapixel camera is easy to use and has a range of photo options with just a brief shutter delay, despite the lack of pixel count when compared to the Apple iPhone 4S, Samsung Galaxy S II, or the HTC Sensation, you can take some stunning photographs and videos with the Tocco. Web browsing is not so good, with no wifi support the Tocco needs a good 3G signal to offer decent speeds, the touchscreen itself is just not sensitive enough for rapid browsing and with no accelerometer you don't have the option of simply turning the phone on it's side for a wider screen. This lack of excellence in terms of internet browsing is only really noticable when directly compared to the better smartphones for internet use such as the Samsung Galaxy Nexus, BlackBerry Torch 9810, Samsung Galaxy S2 and the HTC Titan. The Tocco is a decent phone with internet capability, it's just not the best in this regard.

The Samsung Tocco F480 has a pretty good music player on-board with shuffle, repeat, graphic equaliser, FM radio and rating options plus it comes with better than usual headphones and has a standard 3.5mm adapter so you can use your own earphones if you like. The battery is good for a couple of days of moderate to heavy use, thanks to that smaller touchscreen and lack of wifi no doubt, which means the Tocco will last around twice as long as the current high tech smartphone devices with large screens and good connectivity options.

The Tocco F480 is a decent handset with a compact touchscreen, good camera and decent browser. It does everything reasonably well but fails to shine in any particular area. On the downside there is no accelerometer or Wi-Fi. If you want a touchscreen phone but don't want to stretch to a full "all singing and dancing" smart phone, the Tocco should be on your shortlist. A good, compact touchscreen phone with a nice 5 megapixel camera in an attractive package.
| | |
| --- | --- |
| | |
Submit Your Own Review!