Home
»
Samsung
»
Samsung S5250 white
»
Reviews
Samsung S5250 white Review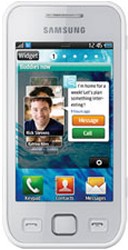 The Samsung Tocco Icon (aka Samsung S5260) is the sequel to the popular Tocco Lite handset which offered the first affordable touchscreen smartphone into the UK market. If you are looking for a low cost smartphone, the Samsung Tocco Icon could just be a good choice, much cheaper than most touchscreen phones but still with a useful 3 inch display. This new display features  capacitive touchscreen, unlike the old fashioned resistive screen on the original Tocco Lite. A traditional candy bar design, it's a neat size measuring 107.5 x 54 x 12.4mm and weighing just 94g.

The display features TouchWiz 3.0 UI as found on Samsungs other Android and Bada offerings, but for the first time has found its way into a more affordable phone, giving the Samsung S5260 the social networking capabilities of much pricier handsets. TouchWiz 3.0 aggregates Facebook and Twitter updates into a single extremely easy function along with multiple customizable homescreens and built-in multitasking support. Hardware wise, apart from the touchscreen, the Tocco Icon has a 3.15 megapixel camera with QVGA video recording capability (but no flash or autofocus), an integrated media player with FM radio, up to 16GB of storage via microSD, GPRS, EDGE and WiFi connectivity (but no 3G).

With its capacitive touchscreen and custom overlay, the Samsung Tocco Icon is a huge improvement on not-so-responsive Tocco Lite. However, with social networking at its core, we struggling to look past its lack of 3G connectivity, a feature which comes as standard on most modern feature phones. Still, while it might not be great at surfing the web, this "Iconic" handset continues to prove it's not just high-end smartphones that do touchscreen well.

While the Samsung Tocco Icon is an improvement over the Tocco light, it's not a huge step up, the inclusion of a capacitive touchscreen is certainly a welcome addition and a good reason to buy if you liked the original Tocco light. But you have to take price into account, the large screen is responsive but it cannot compare to more expensive phones, the resolution isn't as good and of course the usability is limited with no 3G connectivity, non 3G web browsing isn't a fantastic experience! The social networking functions are also pretty basic, though perfectly usable. If you are shopping for a touchscreen phone on a tight budget, then the Samsung Tocco Icon offers you most of the smartphone, touchscreen experience for a limited amount of cash.

| | |
| --- | --- |
| | |
Submit Your Own Review!