Home
»
Samsung
»
Samsung Pixon12 M8910
»
Reviews
Samsung Pixon12 M8910 Review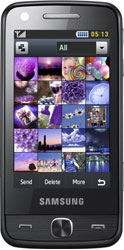 Samsung's has a well deserved reputation for being the first at everything - first commercial mobile phone with optical zoom, the first mobile phone watch and with the Pixon 12 the first handset with a 12 megapixel camera. This handset is crammed with high technology and special effects. The Pixon 12, also known as the Samsung M8910, has a sleek and curvaceous body that houses that amazing 12 megapixel camera. That camera has more than just a sensitive 12 megapixel sensor, the list of photographic features is astounding and includes face, smile and blink detection, 4000 x 3000 pixels, wide 28mm lens, geo-tagging, autofocus, xenon flash (and separate LED light for shooting video) and a huge range of dynamic range and image stabilization. The incredible performance of this camera is guaranteed not to disappoint!

of course the Pixon 12 is not just a camera, this is a feature rich mobile phone with all the features consumers have come to expect including a video player and video editor, 3.1 inch AMOLED resistive touchscreen, 150MB of internal memory, A-GPS with Google Maps,music player, PowerPoint and PDF document viewer, GPRS, EDGE, 3G HSDPA and Bluetooth! The Samsung Pixon 12 is a technological masterpiece which has competitors worried!

The latest TouchWiz 2.0 interface offers a number of widgets you can drag from the widgets bar at the side and use across three different home screens. There are plenty of widgets to choose from whatever your interests, such as social networking widgets for websites like Facebook and YouTube, you can also add little mini versions of your favourite websites as bookmarks for quick access from the home screen too. There are in fact a huge range of networking apps allowing one-touch access to Facebook, Flickr, Picasa, YouTube, Photobucket, Friendster and MySpace.

Messaging works great on the Pixon 12, especially in landscape mode using the on screen QWERTY keyboard, which is easy to use, with a T9 predictive text option. As a media player the Pixon 12 is awesome thanks to that AMOLED screen with 16 million colours. Icons and graphics are quick and sharp, and you can view files in MP4, AVI and even DivX video file formats. For music mp3, WMA and AAC files are supported. Unfortunately there is no standard 3.5mm jack, but Samsung do provide a 3.5mm adaptor and the included headphones are decent.

In summary, an excellent smartphone with a class leading camera on board which rivals standalone digital cameras.

| | |
| --- | --- |
| | |
Submit Your Own Review!