Home
»
Samsung
»
Samsung Omnia W
»
Reviews
Samsung Omnia W Review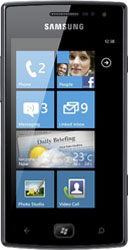 The Omnia W ships with with the latest version of the Windows Phone operating system, Windows Phone Mango, there are many improvements with Mango such as improved Social Networking, an inbox aggregrating texts, email and messages with threaded messaging support, improved Live Tiles, and an updated version of Internet Explorer 9. Amid level phone in terms of pricing, Omnia W never the less has an impressive hardware specification. This high spec in conjunction with the Mango operating system offers an attractive package. The Super AMOLED technology display is bright and uses less power than other screens. Measuring 3.7 inches, the screen has a pixel resolution of 480 x 800 and supports multi-touch input. The 5.0 Megapixel camera features autofocus and an LED Flash with support for geotagging and 720p HD Video.

A quad band GSM handset, the Samsung Omnia W offers full roaming across GSM networks worldwide. Dual band HSDPA is included with speeds up to 14.4 Mbps and HSUPA up to 5.76 Mbps where supported. Both EDGE and GPRS are available when 3G coverage is not possible, as is WiFi. There is 8Gb of internal memory onboard and this is the limit for the phone, as in typical Windows fashion, the device does not include support for Micro SD memory cards.

The music player is integrated with the famed Zune interface, now the "Music+Videos" hub allows you to create playlists and subscribe to podcasts. The Smart DJ song recommendation function can now be used directly on the phone which also plays MPEG-4 video files up to 720p, which look amazing on the Super AMOLED display.

There is a lot to like in the the Samsung Omnia W. Running on Windows Phone 'Mango', Windows Phone 7.5 Mango is a great update and runs smoothly on the Samsung Omnia W with its 1.4GHz processor, and looks great on the Super AMOLED display. The Samsung Omnia W is competitively priced and there is every chance it will become a bestselling Windows Phone. It's compact, with that awesome Super AMOLED screen, and runs the Mango update like a charm. In terms of specs the Samsung Omnia W is more than capable of meeting the challenge from mid-range Android handsets, and currently this latest Windows mobile operating system is a better alternative than Symbian.

The Samsung Omnia W is a greatt all-around smartphone, especially when taking the price into account. It may not have a dual-core processor or huge amounts of RAM, but the performance is flawless. If you are looking for a well-balanced handset which is an all rounder, the Samsung Omnia W fits the bill, there are a few alternatives to consider such as the HTC Radar or the Samsung Galaxy W, which come with similar pricing and spec sheet, but the Omnia W is perhaps the best of the bunch.

| | |
| --- | --- |
| | |
Submit Your Own Review!