Home
»
Samsung
»
Samsung Omnia 7 i8700
»
Reviews
Samsung Omnia 7 i8700 Review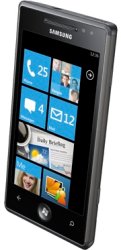 The Samsung Omnia 7 boasts Microsoft's new Windows Phone 7 operating system and uses the vibrant AMOLED screen from the successful Samsung Galaxy S. We've already seen other Windows handsets launched like the LG Optimus 7 and HTC HD7, now Samsung have this new operating system. Much like it's Android powered stablemate the Galaxy S, the Omnia 7's front display is a huge 4 inch Super AMOLED screen, with incredibly sharp resolution of 800x480 pixels. This screen might be smaller than the HTC HD7's 4.3- inch screen, but in terms of quality, the Super AMOLED screen really has to be seen to be believed.

The brilliant display of the Omnia 7 really makes the Windows Phone interface come to life, with bold colours and contrast with amazing brightness. All icons, photographs and other images are crystal clear. Obviously this large screen needs an equally large frame, and the Omnia 7 (much like the Galaxy S and HTC Desire HD) is a large handset. Despite that the phone is surprisingly thin, just 11mm, it does have a massive footprint though. Sheer size aside, the Omnia 7 is a rather attractive slab.

The Samsung Omnia 7 is equipped with a 5 megapixel camera, although the specification seems poor when compared to the 8 megapixel HTC Mozart, the quality of the photos and videos produced by the Omnia 7 are exceptional. The clear and crisp quality look particularly great when displayed on that gorgeous AMOLED screen helped by the 720 pixel resolution video-recording and a useful LED flash. For storage you have to rely on built in RAM as like other Windows phones, there is no provision for expandable memory. For this reason the Samsung Omnia 7 is available in 8GB and 16GB versions. 

The software itself is pretty much the same as the other Windows 7 handsets (the Galaxy S and HTC Desire HD) as manufacturers aren't allowed to tinker around too much with the inner workings of the user interface and the general menu structure is consistent across all Windows phones. Hardware is basically the same also, which means Wi-Fi data connectivity, superfast 1GHz Snapdragon processor and incredible performance. This fast CPU in conjunction with the Super AMOLED screen mean that internet browsing is real joy.

While there's very little to choose between all of the available Windows phones, the Omnia 7 stands out due to that glorious Super AMOLED screen, Samsung's first handset in the Windows Phone war is better than you might expect. The Samsung Omnia 7 is certainly one of the most promising phones to use Microsoft's new operating system to date. If you are in the market for a Windows phone, it effectively boils down to a very difficult choice between the Omnia 7 and HTC's HD7.

| | |
| --- | --- |
| | |
Submit Your Own Review!