Home
»
Samsung
»
Samsung Monte Slider E2550
»
Reviews
Samsung Monte Slider E2550 Review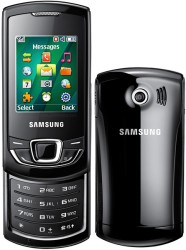 Following in the footsteps of the hugely popular Samsung Monte, the Monte Slider is a budget version of the original Monte. This stripped out version is quite basic and low tech but still manages to cover all the basic mobile telephony requirements at a low price. if you are looking for a basic handset which offers text messaging and making/receiving telephone calls, the Monte Slider is good value.

While the small screen is low resolution, it's clear enough for reading texts or using the phone's menus. Icons are clearly labelled and the interface is user friendly even a newbie could figure out how to use it within minutes. The chassis of the handset is constructed of solid feeling polished plastic which is fairly light and the phone weighs in at just 90g, though all plastic it does not feel insubstantial and should be able to handle the wear and tear most mobile phones are subjected to.

The Slider's 1.3-megapixel camera is a decent if not spectacular unit. But the music player interface is not so good and seems like an afterthought. In addition the Slider doesn't have a standard 3.5mm headphone socket so you have to use Samsung's earphones rather than your own favourite headphones. The 13MB of onboard storage is not up to much either but at least you can get additional storage by buying a microSD card. In a similar vein, there are social networking apps included with the Monte Slider do allow you access to your email, Facebook and Twitter pages etc. However, while these applications work in a basic fashion, they're not in the same league as the integration found on high end smartphones.

There is no Wi-Fi or 3G and therefore connecting with the web and loading pages is fairly slow. That 2 inch screen is not ideal for web browsing for either. Essentially the internet features on the Monte Slider are simply not up to scratch. If you need a phone and intend to spend a lot of time online, the Samsung Monte Slider is not the handset for you. Internet aside, the Monte Slider is still a decent mobile phone - for the price. For £40 or less you get a tough and light handset with a good interface and all the basic features. For those who don't require all that smartphone technology and just want to make calls and send the odd text, the Samsung Monte Slider could make a good choice.

| | |
| --- | --- |
| | |
Submit Your Own Review!