Home
»
Samsung
»
Samsung Galaxy Y S5360
»
Reviews
Samsung Galaxy Y S5360 Review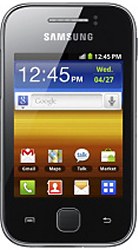 Looking like a more rounded version of the Samsung Galaxy S2, the Galaxy Y has a simple but stylish look, about as wide as a bank card and not much longer, it's a compact phone and the build quality seems solid with a sturdy feel. Although the Galaxy Y doe shave a lot to offer for a budget phone, one area where you can immediately see the effect of cost cutting is in the low resolution LCD screen. It is very small and not terribly responsive either, of course at this price level you cant have everything, but it's clear exactly where Samsung has shaved some costs, offering a basic screen with a resolution of 240 x 320 pixels. The low resolution, along with the small size, means the Galaxy Y is not the best handset for web browsing or composing emails, its usable, but not ideal. The Galaxy Y does however run the excellent Android 2.3 Gingerbread operating system with the Samsung TouchWiz skin which manage between them to make the most of the relatively few pixels to play with.

The Galaxy Y is not the fastest device around, but for everyday basic tasks it's perfectly fine. The processor is actually pretty powerful for a budget phone at 832MHz and in normal use the Galaxy Y functions with very little lag and is quite nippy. Obviously there are limits to the phones capabilities however, viewing media rich web pages or zooming into maps requires some patience - but you get there in the end! The 2-megapixel camera is better than the figures suggest, 2 megapixels does not sound like much these days but the Galaxy Y is capable of some pretty decent snaps and uploading to sites like Facebook is no problem. You can record video footage too, but at this resolution short youtube clips are about the limit of the performance.

The Y is a pretty decent MP3 player too thanks to Samsung's basic music player app, with plenty of storage for music available courtesy of the MicroSD card slot and several days of use available from the battery (the lack of battery sapping huge touchscreen really helps here).

The Y in Galaxy supposedly stands for "Young" and that's exactly the audience this phone is aimed at. As a starter smartphone for kids it's a great buy, cheap and cheerful maybe, but it does offer all the functionality of a smartphone including email, internet browsing, games, social networking and multimedia. Right now the Galaxy Y is one of the better budget Android offerings, but expect the competition to hot up in this growing sector over the next 12 months.
| | |
| --- | --- |
| | |
Submit Your Own Review!