Home
»
Samsung
»
Samsung Galaxy S Plus
»
Reviews
Samsung Galaxy S Plus Review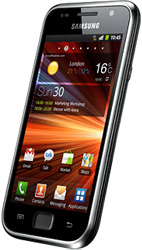 The Samsung Galaxy S Plus is quite simply an improved version of its predecessor, the Galaxy S, which in itself is a popular and sought after mobile phone. The most important of the new improvements is probably the 4.3 inch screen which as a Super AMOLED display offers 80% less reflection than a standard screen. Other improvements over the old model include improved battery life and increased 3G speeds. It would be hard to find a better looking phone than the Galaxy S Plus with that massive 4.3 inch screen and slim curves, it would b ehard to find a phone witha better display too, the HD video on the Plus is incredible. The phone's camera is a vast improvement over that of the Galaxy S, now boasting an 8 megapixel sensor and with an LED flash, the camera is much more stable and easy to use.

Samsung promote this handset as "one of - if not the - best smartphone on the market", so you can expect it to come to the party packing some serious firepower. The Galaxy S Plus does little to disappoint. The latest Android technology in the form of operating system 2.3 (Gingerbread with an Ice Cream Sandwich firmware upgrade in the near future), the interface on the Galaxy S Plus is as user-friendly and slick as can be, while at the same time delivering better control over applications.

The battery performance on the Galaxy S Plus is much improved with a larger 1650mAh capacity battery. Like most smartphones, it will still need an overnight charge after a day of hard use, however this is no different to the majority of high-end smartphones, and considering the technology on board the Galaxy S Plus, a full day from one charge is better than expected.

Connectivity wise the Galaxy S Plus features WiFi Direct, a combination of the best of Bluetooth and WiFi merged together to create a brilliant connective device. There is also a clever MP3 player which will rival a lot of the stand-alone players which comes with a music widget on your task bar. Music is played with 5.1 surround sound, with smart playlists and an FM radio.

The Samsung Galaxy S Plus is a great smartphone, a worthy challenger to the mighty Apple iPhone. The only area in which the S Plus can't match the Apple device is perhaps in terms of the unique "lifestyle" status enjoyed by the iPhone. But on paper, the Samsung Galaxy S Plus is every bit as good - if not better! Slim and sexy, the Samsung Galaxy S Plus is a force to be reckoned with for Apple's iconic iPhone, a great upgrade to the original, and still desirable,Samsung Galaxy S, perfect for gadget lovers and those who like the latest in high tech on their phones.

| | |
| --- | --- |
| | |
Submit Your Own Review!
Samsung Galaxy S Plus User Reviews:
By Irmhaa - Phone Rating: 4/5
damn i dont know what phone to get!! I was debating beetwen the HTC Inspire and the Motorola Atrix, but now that i saw this, i really dont know what to get haha. someone help me out please lol