Home
»
Samsung
»
Samsung Galaxy S II
»
Reviews
Samsung Galaxy S II Review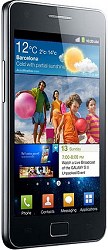 The Samsung Galaxy S II is the flagship phone from the Korean firm and is promoted as the best smartphone in the world so far. Featuring a 1.2GHz processor, sleek chassis and an amazing array of features, its easy to see why everyone is talking about the Galaxy S II. At first glance the Samsung Galaxy S2 is impossibly thin, just 125.3mm x 66.1mm x 8.5mm, it's one of the thinnest smartphones on the market, comparing favourably to the likes of the iPhone 4 and Sony Ericsson Xperia Arc. After the sleek chassis dimensions, the next thing to grab your attention is that screen, 4.3 inches of Super AMOLED plus technology protected by toughened Gorilla Glass.

The original Samsung Galaxy S was pronounced by many as the best phone on the market when it was released and its immediately apparent the Galaxy S2 is a definite improvement on the original, with an incredibly vibrant screen, updated harware and software. Running Android version 2.3.3 with TouchWiz 4.0 (the Samsung Android OS customization), this is a major upgrade. Hardware wise that dual 1.2GHz Samsung processor means the Galaxy S2 is always fast no matter how many applications you have open. Internet access is especially fast, in fact with download speeds of up to 21Mbps supported on HSDPA, the Galaxy S2 is future-proofed as those high speeds are not likely to be supported in the Uk in the near future.

The Samsung Galaxy S2 has an 8 megapixel camera with an LED flash and a whole host of video and camera options. Its perhaps not as good as the Nokia N8 (probably the best camera phone available),  but it's a lot better than the Samsung Galaxy S and the HTC Desire for example. If there is a short list for the best smartphone on the market today, the Samsung Galaxy S2 deserves a place on that list. This is possibly the most well connected phone ever and there is pretty much nothing really missing on the Galaxy S2 that's available on any other smartphone.

The main advantages of the Samsung Galaxy S2 are the super-fast processing and internet speeds, sleek design, amazing screen and exceptional video recording. The downsides are hard to find without some serious nitpicking - perhaps the Samsung Apps portal could be better, the back cover feels a bit lightweight and a touch "plasticky" and thats about it! Quite simply, it's the best Android smartphone yet, period.

| | |
| --- | --- |
| | |
Submit Your Own Review!
Samsung Galaxy S II User Reviews:
By Shagi - Phone Rating: 3/5
As a 50 something, I thoguht it was time I joined the smart phone revolution and after looking at many brands and models, I settled on the Samsung Galaxy Ace. Why this one (1)size still small enough to fit confortably in my trouser pockets, yet with a good size screen, (2) weight/build some of the others just felt so flimsy, (3)I have a hearing loss and many phones didn\'t have a high enough volume for me, I can hear on the Ace perfectly even in a noisy environment, (4)touch screen is very reactive and easy to use, (5) loads of apps, though I had to ask friends for recommendations as I was in sensory overload with the quantity available. I really love Google Street View, it will be brilliant when I next go on holiday, finding my way round new places. Also like Kindle app and screen is not too small for reading, (6) Texting is so simple and I am getting used to swype, (7) camera and video are very good, (8) have loaded some music from my I-Tunes folder, though the album covers disappeared; sound qaulity is very good. Negative points battery runs out quickly if using the internet and some apps; phone has turned itself of a couple of times for no apparent reason. Would recommend this phone and already having a look at it\'s big brother the samsung Galaxy S for when my contract runs out.