Home
»
Samsung
»
Samsung Galaxy Note white
»
Reviews
Samsung Galaxy Note white Review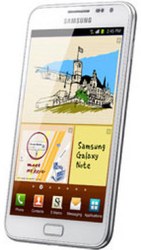 When it comes to screen size on smartphones there are a few different opinions in terms of the right or optimal size. Apple obviously thinks 3.5 inches is perfect, others such as the Samsung Galaxy S2 have gone with a 4.3 inch screen or even a 4.8 inch screen for the new the Galaxy S3. But the Galaxy Note has trumped all with a whopping 5.3 inch screen, can this really be referred to as a phone or is it in fact a tablet device with built in phone functionality? Samsung, believe the Galaxy Note is simply a large screened smartphone, but some feel it is simply to big for a mobile phone! Whatever your feelings about this large screen, the fact is that display is fantastic! it is simply gorgeous, the definition of 1280 x 800 pixels on it's own would be enough for an excellent display, but in conjunction with Samsung's amazing Super AMOLED technology it's incredibly vivid and bright. With a 285 ppi (pixels per inch), the Galaxy Note is approaching the iPhone 4S's 330 ppi, but of course, the Galaxy Note screen is much bigger!

The Galaxy Note comes complete with a stylus that fits neatly into a sculpted recess in the side, at first this seems a bit old-school, a reminder of those old fashioned resistive screens. But this is more than just a stylus, Samsung refer to it as the "S Pen" and can be used with a number of applications, nibs and colours to draw, highlight and even convert handwriting into text and share them via Facebook, Twitter, WhatsApp, Evernote, MMS or email.

The 8-megapixel camera on the Note includes autofocus and a useful LED flash. Picture quality is as good as expected with an 8 megapixel sensor but for some reason Samsung have seen fit not to include an editing suite to make the most of the screen and camera? Video recording however is excellent with full HD resolution up to 1080p and you also get a 2-megapixel front facing camera for video calling. The performance from the dual-core 1.4GHz processor is blisteringly fast with apps opened almost instantly with no sign of lag, and in benchmark tests it beats all other Android devices of similar specification.

Voice commands are supported with Samsung Voice Talk (the same app as the Galaxy S2 being the Samsung version of Apple's Siri), and web browsing is slick with multitouch controls such as pinch-to-zoom. The Galaxy Note has 16GB of memory on board and you can add up to 32GB via the microSD card slot. The battery is good for around a day of heavy use, in line with other leading smartphones, which is actually something to boast about when you consider that enormous screen!

If you love large screen phones, you will love the Galaxy Note, there's plenty to admire besides the screen of course, with a full compliment of Samsung's technology on board. But it's the massive screen that sets this device apart from competitors, you could perhaps also consider HTC's Sensation XL as a similar device with a (not quite as) large screen.
| | |
| --- | --- |
| | |
Submit Your Own Review!