Home
»
Samsung
»
Samsung Galaxy Note
»
Reviews
Samsung Galaxy Note Review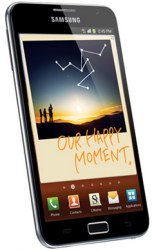 The latest device in the Samsung Android portfolio is the Samsung Galaxy Note. Whether this is a new Smartphone, or as a Tablet device, is unclear! The Galaxy Note firmly straddles the thin dividing line that separates the two categories, not quite large enough perhaps for a true Tablet device, not small enough to be considered just a Smartphone. This confusion is largely due to that impressive 5.3 inch Super AMOLED touchscreen display, with a resolution 1280 x 800 pixels (285 ppi) the display is certainly tablet like. Protected by Gorilla Glass, the screen supports multi-touch input with an accelerometer for auto display rotation. Despite the screens large size, Samsung have managed to keep the Note under 10mm thick, and weighing just 178g, a real achievement for a device of this size.

With a powerful 1.4 GHz processor and Android Gingerbread pre-installed and 1 GB of RAM, the Samsung Galaxy Note is a powerful device that can handle multitasking with ease. The obvious advantage of the Galaxy Note is of course the display. A huge, 5.3 inch HD Super AMOLED screen which is likely the largest, highest quality display available in any phone on sale today. The screen can be used with a device called the S Pen (or stylus), this allows handwriting to be entered on to the display, and can also be used for touch input, highlighting etc. According to Samsung, it is "the best input experience you have ever had."

Despite 3.5 inches being adopted as the optimum size for a mobile display by many manufacturers, that hasn't stopped Samsung from rolling out what it believes is the device which can not only beat the iPhone at it's own game, but also bridge the gap between mobile phone and tablet device. The Galaxy Note is a phone, a tablet and a gaming platform. The Note's screen uses the same Super AMOLED tech as the Galaxy Nexus. Samsung's screens are rightly famed for their brightness, clarity and vibrant colours, and the display on the Note is no exception. However, it's perhaps not quite as good as the Super AMOLED Plus display on the Galaxy S2, but you would have to look very closely indeed to notice, and the 1280x800 resolution is simply astonishing.

With the increased power demands of that amazing Super AMOLED screen, Samsung has wisely packed a larger power cell within the Note, in this case a 2500 mAh unit. This larger capacity battery allows the device will get through a full day without needing a top-up charge. Although the Galaxy Note ships with Android 2.3 (Gingerbread) Google and Samsung have confirmed that Android 4.0 - also known as Ice Cream Sandwich, will be available on the Note around March 2012, not that there is much to complain about with Android 2.3 in any case, in fact casual users probably won't be able to tell the difference.

| | |
| --- | --- |
| | |
Submit Your Own Review!