Home
»
Samsung
»
Samsung Galaxy Nexus
»
Reviews
Samsung Galaxy Nexus Review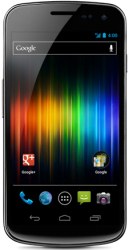 The Samsung Galaxy Nexus is a smartphone powered by the very latest version of Google's Android operating system, Ice Cream Sandwich (Android 4.0). For a compact handset the Nexus packs a lot of technology, including a 4.65 inch screen with 720 x 1280 pixel resolution, a 1080p video camera and a powerful dual core 1.2GHz processor. This is a seriously impressive handset, in particular that 4.65-inch Super AMOLED screen has to be seen to be believed. At a glance it appears to be a screen with physical buttons at the bottom, however these aren't actually buttons, they're part of the display, and vanish when it switches off! The new Ice Cream Sandwich operating system is incredibly slick too and the Galaxy Nexus easily beats practically every previous Android phone in terms of usability, although the plastic design is slightly disappointing when compared to the likes of the iPhone 4S or HTC Sensation.

Samsung has a reputation for producing phones with a predominantly plastic construction, and true to form there's no trace of brushed metal or aluminium anywhere on the casing on the Galaxy Nexus.This makes for a surprisingly lightweight phone but it creates an impression of cheapness when compared to the iPhone 4S which costs roughly the same. However there is no doubting the build quality of the Galaxy Nexus, it simply feels cheap and nasty in comparison. The Samsung Galaxy Nexus does have an amazing screen however, if you were impressed by the iPhone 4's retina display, then you will be amazed with the screen on the Galaxy nexus! With an HD resolution of 720 x 1280 pixels and a pixel density of 316ppi, this is easily one of the best screens ever seen on a mobile phone. Samsung's world-beating Super AMOLED technology give an unparalleled picture quality with bold and bright colours and wide viewing angles.

The Samsung Galaxy Nexus is powered by a 1.2GHz dual-core processor (roughly the same as the Samsung Galaxy S2), this may not seem cutting edge, particularly with the Galaxy S3 rumoured to be sporting a 1.8GHz dual-core processor later this year, but this chip is more than capable and the Galaxy Nexus purrs along nicely and feels positively turbo-charged compared to some competitors.

Similarly, on paper, the Galaxy Nexus camera specification at first seems disappointing. It has the same basic spec as the cameras seen on the previous two Nexus models. However, this is a much-improved sensor with an LED flash for low-light shooting and the camera on the Galaxy Nexus produces hugely great results showing that camera quality cannot be judged by pixel count alone. Its fast too allowing you to take multiple shots with almost no delay. Video recording in HD with both 720p and 1080p resolutions is supported and the results are glorious.

The Android web browser has also undergone a transformation in Ice Cream Sandwich now supporting tabbed browsing, the ability save pages for offline viewing and incognito windows (like Google Chrome browser to protect your privacy). However there is no Adobe Flash support, Flash hasn't been updated for Android 4.0 yet but Adobe will be launching it for Ice Cream Sandwich as soon as it is complete.

| | |
| --- | --- |
| | |
Submit Your Own Review!