Home
»
Samsung
»
Samsung Galaxy Mini S5570 white
»
Reviews
Samsung Galaxy Mini S5570 white Review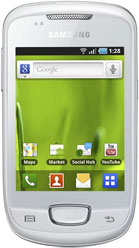 The latest addition to the Samsung Galaxy range is the Galaxy Mini. This handset is almost identical to the Galaxy Fit, but is slightly lighter and has a lower camera specification. This is a budget phone designed to do battle in the stores with the likes of the Orange San Francisco and LG Optimus One. It might be "mini" but is still a decent size to hold and use in one hand, measuring 110mm x60mm x12mm, and weighing just 106. Being a budget device it is unfair to compare the small screen on the Galaxy Mini to the likes of the Apple iPhone 4. This screen features a basic resolution of 240x320 resolution and reading text on web pages can be laborious, given the low price however, this is understandable.

The QWERTY keypad is pretty good as long as you use it in landscape mode, the buttons end up pretty small in portrait mode due to screen size. Messaging and social media interaction are well supported, though at this price level you would be pushing it to expect an iPhone like experience. You do get a range of connectivity options including 3G HSDPA and Wi-Fi. Which means web pages load quickly and browsing can be a surprisingly good experience, except of course when attempting to read text heavy webpages where the small screen and poor resolution combine to make this a painful experience.

The Samsung Galaxy Mini does come with a decent enough 3.15 megapixel camera for the price, but no flash. There are a range different shot modes available however including backlight, beach/snow, candlelight, dawn, fall colour, firework, landscape, night and party/indoor. But these make little difference except in perfect light conditions due to lack of flash. Again, at this price the camera is more than you can realistically expect. There is a standard media player and a really decent FM radio application which gets really good reception. However there are no headphones included in retail pack so you will have to buy your own!

Internet speeds are fast, up to 7.2 Mbps and the Galaxy Mini can be turned into a Wi-Fi hotspot for tethering. The GPS also works really well. The Samsung Galaxy Mini is definitely worth the price if you're willing to make some sacrifices in terms of the speed and responsiveness of the phone in order to save some cash, the Galaxy Mini will appeal to those in the market for their first smartphone, looking for a simple and easy to use experience on a budget. The low-end smartphone market is an area where Samsung has traditionally done well, with the Galaxy Mini being the last in a long line of value for money smartphones.

| | |
| --- | --- |
| | |
Submit Your Own Review!