Home
»
Samsung
»
Samsung Galaxy Europa i5500
»
Reviews
Samsung Galaxy Europa i5500 Review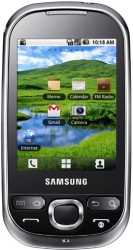 The Samsung Galaxy Europa GT-i5500 is an Android handset measuring 56mm x 108mm x 12.3 mm and weighing in at 102g. Build quality is sturdy and it feels built to last. On the front of the handset you will find a navigation key and two rocker buttons on either side along with the 2.8-inch screen with a resolution of 240x320 pixels. The screen is  bright with vivid colours and is the capacitive type screen, which means its more responsive in use, however it is a small displays with limited resolution so you will find that scrolling and zooming will be necessary on most web pages.

Running Android software 2.1 as opposed to the most recent version of Google's mobile operating system, you may expect the experience to feel somewhat dated, however this operating system still feels fresh on the Europa GT-i5500. Android is a pretty simple but surprisingly powerful operating system even ion this 2.1 instance. Even this older version of Android still of course allows you to access the Android Market so you can load up your phone with software, games and useful apps. The whole Android interface is in fact impressively smooth and fast.

Thanks to 3G and Wi-Fi connectivity, the Europa GT-i5500 is a great phone for surfing the internet. The Web browser works well and you have access to maps and navigation software which is pre-installed, this is a phone with great internet potential. However there is no multi-touch support, so no pinch-to-zoom functionality when viewing maps or Web pages. No Flash support either which is annoying but certainly not a problem which is specific to just this phone model.

You also get a 2 megapixel camera on the back of the Galaxy Europa GT-i5500, but as you can imagine from the feeble specification it's a little uninspiring but perfectly OK for grabbing a quick snapshot. Battery life is reasonable an don par with other 3G equipped mobile phones, you should get a full day out of a single charge unless you abuse the 3G technology.

The Samsung Galaxy Europa GT-i5500 is a fairly unassuming handset, but looks can be deceiving. It runs a powerful operating system and offers better connectivity than most handsets in this price range. It certainly won't be troubling high-end smart phones like the iPhone 4, but for the money, this is a good phone which offers lots of features like Android 2.1, Wi-Fi and 3G, and of course great value.

| | |
| --- | --- |
| | |
Submit Your Own Review!