Home
»
Samsung
»
Samsung Galaxy Ace 2 white
»
Reviews
Samsung Galaxy Ace 2 white Review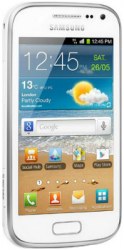 The Ace 2 is an excellent and affordable mobile phone with a good range of features for the price. Powered by a dual-core 800MHz processor, the Ace 2 isn't especially fast, but the phone is much smoother and more responsive than you might expect. Internet browsing is pretty quick, even on some heavy duty multimedia type websites you don't have to wait too long for them to load. I terems of benchmark tests, the Ace 2 is somewhere between the LG Optimus 2X and the HTC Desire HD.

The Galaxy Ace 2 has 4GB of storage on-board which can easily by expanded using a microSD card, battery life is par for the course with smartphones these days so expect around so you'll probably need to charge it up every night (if not more if you're an especially heavy user). Despite looking a bit "plasticky", the Ace 2 feels fairly substantial and weighs 122g, just slightly lighter than Apple's iPhone 4S. The 3.8-inch display doesn't use the fantastic AMOLED screen technology you find on higher-end Samsung smartphones, but it still looks really bright and colourful. Call quality is excellent too, even when using the rear speaker hands free which is also impressively loud and clear.

Screen resolution has been increased from the 320x480 pixels of the original Ace to a much more acceptable 480x800 pixels, still not class leading, but perfectly respectable in this price range. Running on Android, the Google mobile operating system, you have access to Google's Play store and thousands of free apps. You also get a 5-megapixel camera with LED flash along with a front-facing camera for video calling, a surprising feature at this price.

If you're after a good looking mobile that can handle all of the essentials with a decent camera, wireless internet access and instant messaging already built-in, then the Samsung Galaxy Ace 2 is a great all-rounder. Alternative phones worth also considering at this price include the dual-core Sony Xperia U, the Orange San Diego and the ZTE Grand X.


| | |
| --- | --- |
| | |
Submit Your Own Review!