Home
»
Samsung
»
Samsung Galaxy Ace 2
»
Reviews
Samsung Galaxy Ace 2 Review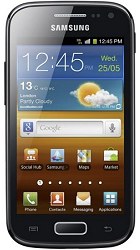 The original Galaxy Ace looked very similar to the Apple iPhone 4, but the Ace 2 has a different look with rounded corners and that "Apple like" silver stripe surround has also gone. The Samsung Galaxy Ace 2 measures 10.5mm thick, not as slim as the Samsung Galaxy S2, but not too bulky either. The Ace 2 does feel particularly sturdy in your hands, as if it's built to last and will not fall apart if dropped.

The 3.8 inch display is not the AMOLED type screen found on high end Samsung smartphones, but it's very colourful and has a decent resolution of 480 x 800 pixels (up from the originals 320x480 pixels)0. Text and icons look crisp and sharp with a 246dpi resolution. Although a lot smaller than the likes of the Samsung Galaxy Nexus, it's pretty good for a cheaper model and perfectly acceptable for watching media or browsing the net. The Galaxy Ace 2 runs Android, Google's mobile operating system. It's got version 2.3 Gingerbread on board as opposed to the latest Ice Cream Sandwich version, but this is perfectly fine and offers more functionality that most users will ever need, only missing out on the latest features like facelock (note recent Samsung promotional videos have mentioned the fact that the Galaxy Ace 2 is ICS upgradeable!).

The 5-megapixel camera with flash is a good performer, even with the low megapixel count, but picture quality is much more than just the number of megapixels available, the Ace 2 takes decent still shots and video too. Sharing photos and videos online is dead easy to with Android apps for Facebook, Twitter and Youtube at your disposal. The camera also now has the capability to capture video in 720p HD format.

The Ace 2 is powered by a dual core 800MHz processor, that's obviously not going to win any hardware awards anytime soon nor trouble the blisteringly fast quad-core Galaxy S3. Nowadays superfast processors seem to be becoming the norm, but the Ace 2 manages quite well without serious processor power, with no obvious stuttering or lagging during normal use. Hardware wise everything is present and correct - Wi-Fi, GPS, Bluetooth 3.0, USB port and 3.5mm headphone jack.

The Samsung Galaxy Ace 2 is not a bargain basement phone, its certainly cheaper than the range topping smartphone powerhouses out there but it's hardly a basic handset. Essentially if you are looking for all the Android smartphone features, but don't want to pay a premium for the very latest technology, the Galaxy Ace 2 could suit you well.
| | |
| --- | --- |
| | |
Submit Your Own Review!