Home
»
Samsung
»
Samsung Chat S3350
»
Reviews
Samsung Chat S3350 Review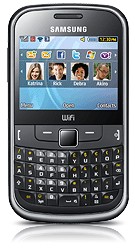 The Samsung Ch@t 335 handset is billed as a budget BlackBerry beating device. Featuring a full QWERTY keyboard and an optical trackpad in true Blackberry style, it's an ideal device for texting or emailing. The Ch@t is superslim handset with a quality upmarket feel that certainly looks like a high-end expensive smartphone.

The Samsung Ch@t 335 (aka Samsung Chat), not only looks like a BlackBerry, it pretty much does everything a BlackBerry does. Yet it is around half the cost of even an entry-level BlackBerry, such as the 8520. But is it actually as good as a BlackBerry? Well it's certainly an improvement over the previous Samsung assualt on Blackberry, the Genio Qwerty. The ch@t is an altogether different animal. It's around the same size as the BlackBerry 8520, but much slimmer, but at the same time does not feel lighweight or flimsy, in fact the metal finish has a definite quality feel. The QWERTY keyboard has been completely re-designed and is now much easier to use with good sized keys which respond nicely to the touch and the added facility of adding programmed shortcut keys for fast access to favourite applications.

The display is pretty standard at 2.4 inches and 320 x 240 pixel resolution using LCD technology. Under the display you find the optical trackpad which allows you to move around the screen and scroll easily. In fact the QWERTY keyboard plus trackpad is a winning combination. Like the Blackberry the Ch@t is great for texting, emailing and instant messaging. The Chat may not have 3G, but it's the only budget phone in this price range that has Wi-Fi and there is Bluetooth and USB available too.

The Ch@t is no smartphone, but there are a few apps you can install and it comes with 5 embedded Java games. You won't get bored on the bus either, because it has a music player and an FM radio, with the ability to record songs from the radio. The 3.5mm audio connector lets you plug in any standard-fit headphones for the best audio quality.

Like many phones in this price range, the camera on the Samsung Ch@t 335 is very basic, at just 2 megapixels and with extra features such as autofocus or flash. It can record video, if you really want to, but don't expect much in the way of quality. In fairness other handsets like BlackBerry 8520 and the Nokia C3 are no better in this regard.

The Ch@t 335 generally succeeds at delivering the power of a BlackBerry for around half the expense, obviously some corners have been cut, but it's hard to find fault with this handset. If you want to spend more money and get a Blackberry, then you will get a better mobile, but whether the extra expense is worth it is down to the individual.

| | |
| --- | --- |
| | |
Submit Your Own Review!