Home
»
Nokia
»
Nokia X7 light
»
Reviews
Nokia X7 light Review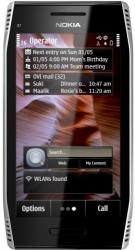 The Nokia X7 is a smartphone priced at the higher end of the Nokia price range, but some have criticised the X7 Light for offering poor value for money. The main reason for these comments is the fact that the X7 runs the Symbian Anna operating system, which is destined to be dumped by Nokia in the near future. The decision to use Symbian on the X7 has meant that the screen resolution, processor speed, memory and hardware dont really deliver when compared to some rivals in the same price range.

In many ways, the Nokia X7 is simply an upgraded version of the Nokia X6. It's a bit bigger than the X6, in fact it's been described as a bit of a slab. This of course is alrgely due to the epic 4 inch screen. It's a bright and clear screen using AMOLED technology and responds well to the touch. However, as mentioned previously, it lags behind the best screens with a significantly lower number of pixels, but its not a bad screen by any stretch of the imagination.

The camera looks great on paper, like the screen it initially seems good but is does not deliver as it should thanks to the limitations of Symbian, with 8 megapixels and 720 pixel HD its a good specification, but it's let down with no autofocus. Onboard memory is a paltry 350MB but this can be expanded with an 8GB microSD card (which is supplied for free in the retail pack). The battery is rated at just 1200mAh and the processor at 680MHz, neither of which is really good enough for a premium priced smartphone any more.

The biggest downfall for the Nokia X7 Light is the price. It competes head on with fantastic smartphones like the HTC Sensation or LG Optimus 3D. However, the X7 is far from a bad phone, and although the Symbian operating system may be seen as a hindrance to some, many Nokia fans love the intuitive interface and the ease of use from the familiar Nokia systems. The X7 is fully loaded with a capacitive touchscreen AMOLED screen, superb NSeries music player, FM radio, Messaging (via SMS, MMS and email), integrated A-GPS with Ovi Maps, internet access (HSCSD, GPRS, EDGE, 3G HSDPA), WiFi, Bluetooth, Quadband reception and 3G.

While some may want the top of the range handset with the best absolute performance, many are more than comfortable with the easy to use and super familiar Nokia Symbian interface and will find this fully loaded smartphone perefect for their needs, featuring all the latest technologies in a smartphone which is as easy to use as the Nokia's of yesteryear.

| | |
| --- | --- |
| | |
Submit Your Own Review!