Home
»
Nokia
»
Nokia X3-02 black
»
Reviews
Nokia X3-02 black Review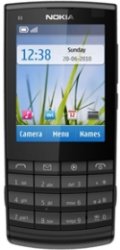 Smartphones today are the norm, but while everyone expects smartphone features as standard these days, not every device has the touchscreen operation to make the most of ther capabilities. The Nokia X3-02 Touch and Type is a smartphone with a decent 2.4 inch touchscreen with a keypad that is optimised for typing. Seen by many as an alternative to the Nokia C3-0 (which was the first Nokia handset to offer this hybrid of touch and keypad input).

The black finish on the Nokia X3-02 Black looks business like and classy (the slightly-pearlescent white version looks great too), the specification, bearing in mind the price, doesn't disappoint. The headline features include Wi-Fi, HSPA mobile internet and a 5 megapixel camera. Running Symbian S40 (version 8), is capable of doing the vast majority of the things a high end smartphone can do. The only major drawback with Symbian for most users will be the lack of support for multi-tasking, however the lack of GPS capabilities may be an issue for some. Its a neat device too, just 0.3mm thicker than the iPhone 4!

The Nokia Communities feature available on the X3-02 Touch and Type offers easy access to social networks such as Twitter and Facebook. There is also a useful Mail app which can handle multiple accounts (including Ovi Mail, Yahoo Mail, Gmail and Hotmail). In addition there is the Nokia's own app store - Ovi Store.

The camera on the Nokia X3-02 Touch and Type features a 5 megapixel sensor, and a resolution of up to 1944 x 2592 pixels (the same as the iPhone 4), however this X3-02 phone fails to match the quality images possible with the iPhone. Video resolution on this camera is 640 x 480 pixels, and apart from fast motion capture, the video quality is pretty decent. Many competing handsets offer 720 pixel video capture, so the specification on the X3 is nothing special.

The X3-02 does a much better job when it comes to playing music. The standard 3.5mm headphone jack allows you use your own headphones and the included 2GB memory card can store up to 30 albums of music (up to 16Gb cards are supported). The intuitive music player interface allows you browse music by album, artist or even genre, with support for  playlists.
The Nokia X3-02 (also known as the Nokia X3 Touch and Type) is a handset which won't break the bank, but still delivers almost all the benefits required and expected by smartphone users.
| | |
| --- | --- |
| | |
Submit Your Own Review!