Home
»
Nokia
»
Nokia Lumia 900 black
»
Reviews
Nokia Lumia 900 black Review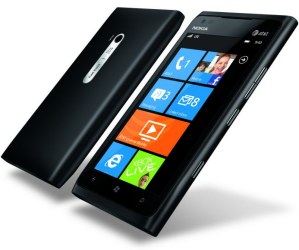 Nokia's Lumia 900 mobile phone is a beautiful handset running the excellent new Windows Phone 7 (Mango) software. The 900 is a bigger, but very similar device to the Lumia 800 model, but with the addition of a substantially larger touchscreen and a front-facing camera for video calling. There is also a bigger battery but this is to give the same performance as the 800, not to improve it. Think of the Lumia 900 as a bigger, slightly improved version of the excellent Lumia 800 and you wont go far wrong!

Whereas the Lumia 800 offered a great 3.7 inch screen, the larger 900 model features a substantially larger 4.3 inch unit with 800 x 480 pixel resolution. The 900 sticks with the same dual core processor as it's sibling however, despite many other phones now boasting quad core processors for extra performance. The Lumia 900 copes perfectly well without this quad core trickery however, and does not seem wanting in terms of speed. Unfortunately you can't upgrade the on board 16GB on storage, but you do get 25GB of online storage for free. The Carl Zeiss lens on the 8MP camera provides excellent pictures, especially outside.

The one area where Windows Phone is at a serious disadvantage to Android and iOS is the lack of apps, but enough of the essential apps are there to satisfy most users and the numbers are growing. Compared to the Lumia 800, the 900 model is bigger, has a larger battery, offers a large display and it is easier to access the charging port. Although bigger than the Lumia 800, the increased size is not too big, when compared to rival Android phones like the HTC One X. Nokia has also added internet tethering with the 900, so you can share your phone's internet connection, this is a first for Windows phone and will be added to other mobile devices via the Windows "Tango" update.

The large AMOLED ClearBlack touchscreen is excellent for browsing the internet, reviewing snaps from the 8 megapixel camera or watching movies. Thanks to the bigger battery, the 900 will last well on a single charge, over a day of medium to heavy use. The Lumia 900 is essentially a slightly bigger version of then 800 with a bigger, better screen and some other minor improvements. The Lumia 800 is perhaps the best Windows powered smartphone out there, the 900 has all the same qualities but with a bigger screen.
| | |
| --- | --- |
| | |
Submit Your Own Review!