Home
»
Nokia
»
Nokia Lumia 800 pink
»
Reviews
Nokia Lumia 800 pink Review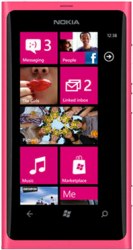 The Nokia Lumia 800 is the first smartphone to feature Mango, the latest version of the Windows Phone operating system. This is a landmark handset for Nokia as the Finnish company really needs a successful smartphone launch to regain lost market share to Android and Apple phones. Many industry pundits have commented that the Lumia 800 could be the "make-or-break" handset for Nokia and sees the phone manufacturer moving away from its own Symbian platform. Luckily, it looks like Nokia have a winner, the Nokia Lumia 800 is probably the best Nokia smartphone yet. With the same design cues as the Nokia N9 which matches the Apple iPhone 4S for both looks and build quality (especially the pink version reviewed here), the Lumia 800 also features a stunning 3.7-inch screen using Nokia's ClearBlack Display technology with 480 x 800 pixel resolution. But it is probably the integration of the Mango operating system that is the highlight of the Lumia 800, the design and usability of this phone is enough to seriously threaten the Apple and Android market dominance.

The Nokia Lumia 800 is a smartphone that quickly becomes second nature to use, all the menus are responsive and intuitive, and selections are large and finger friendly. It's an easy phone to customise to your need too. The 8-megapixel camera is outstanding, featuring Carl Zeiss optics and producing sharp and detailed photographs.

This fast and slick Windows Phone 7 smartphone measures just 117x61x12mm and weighs 142g which is about average for smartphones these days, however the neat curved sides mean the Lumia 800 is particulary easy and comfortably in the hand. While many new smartphones now have dual-core processors, the Lumix 800 makes do with a single-core processor like all current Windows Phone 7 handsets, but the 1.4GHz Qualcomm MSM8255 is fast and the Lumia 800 is one of the fastest Windows Phone 7 smartphones around, perhaps only the 1.5GHz HTC Titan runs quicker. The Windows interface is incredibly slick with smooth transitions no slowdown when running multiple apps.

This is little practical difference in terms of everyday use between the Lumia 800 and the iPhone 4S, both handsets are equally smooth and slick, the Lumia 800 is right up there with the best smartphones and is noticeably smoother than your average Android device. The Lumia 800 is by far the best Windows Phone 7 handset on the market. Windows Phone 7 works very well on this phone and the quality and design matches the iPhone. The lack of apps might put off some but the number and range of apps is growing fast and all the main features like Twitter and Facebook integration are built into the Mango Operating System anyway. The Lumia 800 is a beautifully crafted handset that is highly desirable!
| | |
| --- | --- |
| | |
Submit Your Own Review!