Home
»
Nokia
»
Nokia Lumia 800 black
»
Reviews
Nokia Lumia 800 black Review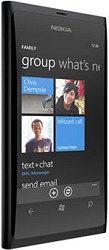 The Nokia Lumia 800 is probably the first Windows Phone 7 device to seriously rival the high end Android smartphones like the Samsung Galaxy S2 and HTC Sensation XE. Featuring a 1.4GHz processor and a camera boasting Carl Zeiss optics, the Lumia 800 has some serious tech credentials. The 3.7 inch AMOLED ClearBlack curved display offers stunningly vibrant colours and is a great showcase for the new Windows Phone 7 operating system colour schemes (black, cyan and magenta). Nokia's move to Windows is welcome as the previous Symbian operating system was decidedly clunky even after a number of improvements.

The Nokia Lumia 800 is definitely on track to become the first Windows Phone 7 device to really bother the traditional smartphone market leaders, it is the best Microsoft Windows 7.5 offering on the market without doubt and is also competitively priced. This is a serious threat to Android domination, especially when you consider many users will like the simplicity of Microsoft's operating system, a mobile device that newbies can use instantly. In fact, according to Nokia's CEO Stephen Elop, this is the "first real Windows Phone".

The ClearBlack OLED screen on the Nokia Lumia 800 is a great display, protected by that curved Gorilla Glass and especially impressive when viewed in bright daylight where it outperforms many competing devices. It would be even better with higher resolution, the current 800 x 480 pixels is great most of the time but when zooming out on some web pages it can look a little rough around the edges. The camera is excellent too, with clear and vivid picture quality and a simple interface to post snaps to sites like Facebook. It's not as quick as the iPhone 4S or Xperia Arc S, but the quality is right up there with the best in the class. Of course Windows Phone handsets have an advantage over rivals with that dedicated camera button, simply press the chrome key on the Nokia Lumia from any screen and you'll be snapping away.

Nokia has added some of its own technology into the mix with Nokia Drive, the first free sat nav service to come bundled on any Windows Phone, and Nokia Music with dedicated radio stations offering the latest tracks sorted in genres. Nokia and Microsoft will be certainly be very pleased with the first device of their partnership. The Nokia Lumia 800 is a slick and engaging smartphone and the Windows Phone operating system has excellent social media integration, add in free music streaming with Nokia's Mix Radio, decent free navigation service and a stylish, sturdy design, and you have a clear Windows Phone winner!
| | |
| --- | --- |
| | |
Submit Your Own Review!