Home
»
Nokia
»
Nokia Lumia 710 black
»
Reviews
Nokia Lumia 710 black Review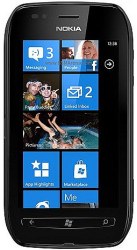 The Nokia Lumia 710 is the Finnish firm's second smartphone to run Microsoft's Windows Phone operating system. Less stylish and considerably cheaper than its stablemate, the Lumia 800, the 710 is priced to compete with the likes of the ZTE Tania and the HTC Radar. The Lumia 710's highlight features are the Windows Phone operating system, the trendy, swappable backplates (yellow, cyan, magenta, black or white) and free music streaming and sat-nav apps from Nokia. Powered by the latest version of Windows Phone 7.5, aka Mango, the 710 is slick and easy to use, with the powerful 1.4GHz chip helping to provide impressive performance. Luckily, it's nothing like Microsoft's previous mobile OS, Windows Mobile, as this time it's been designed for touchscreen phones from the ground up and works fantastically well even though it looks strikingly different to Android and iOS.

Even if you're new to smartphones and mobile operating systems, you'll find Windows Phone a really welcoming place being simple and straightforward to use. Nokia also makes its own contribution to software on the Lumia 710 with Nokia Maps, Nokia Mix Radio and Nokia Drive apps. The Mix Radio app offers free music streaming with access to 15 million tracks and supports offline listening of up to 14 hours of downloaded music with no sign-up or even registration required. Nokia's sat-nav app brings turn-by-turn navigation to the Lumia 710 users completely free with over 100 international maps (including the UK) available for download. Nokia Drive apps offer access to Microsoft's SkyDrive cloud storage service, with 25GB of free space for each user (five times more than Apple's iCloud system). Though it is worth noting that there is no expandable memory on the Lumia 710, and with only 8GB on-board, cloud storage is a necessity.

The front of the Lumia 710 is dominated by the 3.7-inch LCD touchscreen display that's a good size for the handset, neither too small nor too big. Size-wise it's slightly bigger than the iPhone 4S or the Lumia 800, being a relatively chunky 12.5mm thick, but the handset feels reassuringly solid, even though it's actually lighter than the iPhone 3GS. The capacitive LCD touchscreen has a decent resolution of 480 x 800 pixels, like all Windows Phones to date. It may not be hte best smartphone screen, lacking the AMOLED screen of the Lumia 800, or the iPhone Retina display, but the 710's screen is bright and colours are vivid.

The Lumia 710 has a 5-megapixel camera on the back, par for the course in a mid-tier smartphone, with a dedicated camera button, the results however are distinctly average so this is not a handset for budding photographers. Video performance is above average, in well-lit environments at least. The 710 shoots 720p resolution video at 30 frames per second but can become grainy in poor light. All the usual smartphone connectivity options are on board, HSPA, Wi-Fi, Bluetooth 2.0 and GPS. if you are looking for a Windows Phone, the 710 is a decent mid-range choice. For a mid-priced smartphone, the Nokia Lumia 710 has loads to offer.

| | |
| --- | --- |
| | |
Submit Your Own Review!