Home
»
Nokia
»
Nokia Lumia 610 black
»
Reviews
Nokia Lumia 610 black Review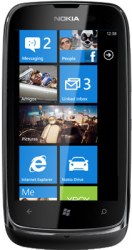 With 3.5G, Wi-Fi and Bluetooth on board the Nokia Lumia 610 helps you stay connected and with SMS, MMS, Email and instant messaging as well as easy access to your social networks staying in touch has never been easier. The Nokia Lumia 610 is a budget smartphone with a rock bottom price that is also a pleasure to use, an ideal handset for the first-time smartphone owner with the intuitive Windows Phone 7 operating system. This is the cheapest Lumia handset to date sitting below the Nokia Lumia 710 and Nokia Lumia 800 handsets. It may be cheap, but it's also cheerful, certainly not cheap and nasty. The screen is a generous 3.7 inches with a decent resolution of 480 x 800. It's well made too, with a soft-touch plastic rear cover, a chrome effect trim and a profile that means it feels comfortable in the hand. It's not particularly slim at 12mm, but it's not fat boy either.

The screen resolution is no match for flagship phones with HD resolutions, but remember this is a fairly cheap phone so comparisons with the likes of the Samsung Galaxy S3 and the Apple iPhone 4S are abit unfair. The 610 does have 480 x 800 resolution crammed into that 3.7 inch screen, giving a pixel density of 252ppi , so while not class leading, it's pretty nifty. Quality isn't bad either, with plenty of brightness and decent viewing angles.

Windows Phone 7 makes a lot of sense when it comes to budget handsets, as budget Android phones typically don't offer the full Android experience, whereas the Lumia feels just as fluid and responsive as the premium Windows Phone phones, even with that basic 800MHz processor. So you get all the benefits Windows Phone 7, such as the excellent social networking integration and mobile versions of Microsoft PowerPoint, Excel and Word, in a budget phone.

You also benefit from the Nokia turn-by-turn free satnav with offline maps and a new feature called Nokia Transport (a public transport journey planner), which works out the best journey using public transport, however only London is covered with full timetable information. The 5 megapixel camera is pretty good too, with LED flash and a dedicated shutter button along with VGA video recording. Battery life is above average with 1-2 days possible from single charge depending on the type of use, and the sound quality from the included headset is excellent. Cheap handsets powered by Windows like the Lumia 610 are only possible because Microsoft recently dropped the minimum specification specifically to allow for cheaper handsets like this one ( the minimum specification used to be a single-core 1GHz processor and 512MB of RAM).

Although there are not really any detrimental effects in the everuday use of the phone due to the 800MHz processor, some apps simply won't run on the Lumia 610, but there are still plenty that do work. The only real drawback of the phone is there's no microSD slot, so you're limited to the 8GB of storage included on the phone itself.

This may not be the sexiest phone around, it doesn't have the best screen, or the most powerful hardware, or even the best camera. But as a starter mobile, it's easy to recommend. The Nokia Lumia 610 is fluid and easy to use, with a good selection of features and extras, not to mention a great price.
| | |
| --- | --- |
| | |
Submit Your Own Review!