Home
»
Nokia
»
Nokia E7 silver
»
Reviews
Nokia E7 silver Review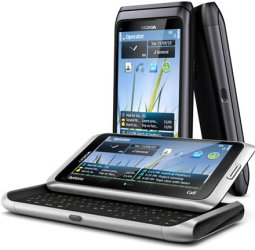 Although HTC seems to be leading the pack when it comes to messaging orientated smartphones with querty keyboards, Nokia have been hitting back with their range of iconic clamshell phonesbeginning way back in 1996 with the Nokia 9000 and continuing with the latest Symbian S80 models such as the Nokia E7. The E7 is the manufacturer's current flagship handset, taking the throne from the worthy Nokia N8 which still continues on as Nokia's top multi-media device.

The E7 comes in black or silver, whichever colour you choose, there is no denying the Nokia E7 is a gorgeous handset. perhaps not a classical beauty like the iPhone 4, but it's right up there in terms of materials and build quality. The E7 looks similer to the N8, with its 4 inch glass covered touchscreen, the E7 looks like a larger N8 in design terms, but in order to accommodate the physical qwerty keyboard, the body is split lengthways into two sections. With one half housing the display and menu key and the other half  housing the keyboard (along with the camera and most of the other technology. The E7 is actually thinner than the N8 despite that full keyboard, in fact its one of the slimmest landscape QWERTY devices on the market.

In terms of weight and size, the E7 weighs around the same as the HTC Thunderbolt. Build quality, fit and finish are top notch along with amazing attention to detail. The tilt-out display and qwerty keyboard are excellent and between them form the character of the E7, with a hinging mechanism quite similar to the N97) manufactured from a light and strong alloy which feels reassuringly robust. Many users report no play at all in the mechanism even after prolonged use. The keyboard itself is great to use with tactile feedback.

The 4 inch AMOLED touch screen with ClearBlack is bright and sharp even when viewed in direct sunlight. The colours are never any less than vivid. Resolution howeve, it not up with the class leaders, with just 640 x 360 pixels, but most users will not miss the high definition due to the clarity and sharpness of the screen. Gorilla Glass protects the touchscreen, light sensors and the front-facing camera.

The E7 is a fantastic handset with an easy to view touchscreen, HDMI-out port, HD video recording, cool looking and classy design and great keyboard. The only real downside is the high price. However, many will love the Nokia E7 so much they will feel the price is more than justified.

| | |
| --- | --- |
| | |
Submit Your Own Review!