Home
»
Nokia
»
Nokia E6 silver
»
Reviews
Nokia E6 silver Review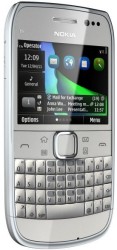 The Nokia E6 is a very capable smartphone marketed towards the corporate market and business users (think Blackberry territory). Additionally, the features which make this handset so useful for corporate users (the combination of touchscreen and physical QWERTY keyboard) makes it very appealing for bloggers and those who frequent social networks such as Twitter and Facebook. Even heavy text users will appreciate the fact that typing is a breeze. The E6 is Nokias first smartphone to run the new Symbian Anna operating system out of the box. This new Symbian Anna pushes this operating system to a new level with a more user-friendly and sleek user interface, totally revamped web browser, new split screen viewing modes and improved Ovi Maps and Store.

With an 8 megapixel camera and up to 8GB memory (plus an additional 40MB with an external memory card), the Nokia E6 has more than enough storage for a decent sized music collection, or even a video/photograph library. Physical keyboards are becoming rare these days, however many still prefer this option, so it's good to see Nokia providing a very usable keyboard.

This is Nokia's first handset with VGA resolution (in addition to the first with QWERTY bar and touchscreen). The pixel density on the E6 is even higher than the Apple's Retina display. The landscape 2.46 inch 16 million color capacitive touchscreen, has colours that are vivid and accurate with 640 x 480 pixel resolution, and it's as responsive as they come. Registering even the lightest of touches and with pinch zooming capability. The screen takes up much of the handset real estate and gives it an iPhone-like appearance.

Most people have written off the Symbian operating system, in fact many have been writing it off for years, particularly with Nokia's recent move to Windows Phone. However it appears there is still potential with Symbian, and this latest version (Anna) seems to have some promise. The Nokia E6 is a worthy successor to the earlier QWERTY "candybar" mobiles and seems to have everything  required to become a bestseller – that amazing state of the art super high resolution touchscreen, excellent build quality, great full qwerty keyboard, powerful 680MHz ARM11 processor and 2D/3D graphics hardware acceleration and a fantastic camera with camcorder.

The only real major criticism is perhaps the internet browser does not quite have the responsiveness of some Apple and Android smartphone competitors, however, in everyday use the vast majority of users will be never be able to tell the difference.

| | |
| --- | --- |
| | |
Submit Your Own Review!