Home
»
Nokia
»
Nokia C7 silver
»
Reviews
Nokia C7 silver Review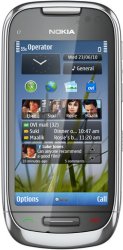 The Nokia C7 is in many ways a return by Nokia to its cool values. The great build quality, simple hardware, exceptional call quality and great battery life of the Nokia C7 puts many rivals to shame. However, some may feel this handset lacks the advanced functionality of some competitors. On the other hand, Nokia fans will love the ease of use.

The main chassis on the C7 is all plastic, despite that, it feels solid and well made with a nice finish, while the metal backplate ads to the overall premium feel. The front is of the handset boasts a quality glass covered touchscreen that matches the appeal of other high-end devices. The biggest seller is expected to be this silver finish but the phone is available in black and there's a champagne option too.

The C7 has a microSD slot which is capable of adding up to 32GB of storage to the 8GB which is already included onboard. Unfortunately, you do have to remove the battery to access the microSD slot. There is also a microUSB socket included for data transfer, but incredibly, the supplied microUSB cable doesn't charge the phone so for normal charging you have to use the conventional socket.

A slim device (117.3 x 56.8 x 10.5mm), the C7 is comfortable to hold, although some feel the "plasticky" feel is a tad slippery. The first thing you notice about the C7 is the neat display which uses AMOLED technology. its an excellent screen even though at 3.5 inches it isn't the largest, nor is the resolution of 360 x 640 pixels the highest. However the high contrast and deeply saturated colours make this display one of the best in the business.

This latest version of Symbian has many improvements, particularly in terms messaging and email. The web browser is another big improvement with web pages being displayed accurately and pinch-to-zoom and inertial scrolling capabilities. However Flash video isn't supported and there is no doubt Symbian is simply not as sleek as the other operating systems running competitors phones.

In summary, the Nokia C7 is a neat smartphone with a good camera, excellent build quality, great battery life and a fantastic display. The only real downsides are the acward location of the microSD card and the reliance on the Symbian OS. However many will find the comfortable and intuitive interface of the C7 operating system is worth putting up with some minor "clunkiness" when compared to other systems. In fact, when viewed in isolation, the Symbian interface is perfectly good and easy to navigate and use. Its only when compared to other operating systems that it can seem slightly second rate, Nokia fans who are used to this system will be quite happy with the familiar system.

| | |
| --- | --- |
| | |
Submit Your Own Review!