Home
»
Nokia
»
Nokia C5-03 white
»
Reviews
Nokia C5-03 white Review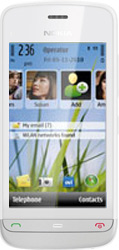 Nokia C5-03 is a sleek device with minimalistic buttons and full touchscreen capability. However in terms of mid-range smartphones for those on a budget in does fall behind some competitors in key areas, in some ways the Nokia C5-03 is a "jack of all trades and master of none". For instance the Blackberry Curve 3G has better email capabilities, the Samsung Monte offers more pre-loaded apps and the HTC Wildfire has a better camera. So what exactly does the Nokia C5-03 offer over and above last year's Nokia C5?

Well, the C5-03 version measures just under 14mm thick, this means the handset is compact but perhaps slightly bigger than some users may expect. It does fit comfortably in the hand and feels solid however. This latest C5 still utilises the Symbian operating system (albeit the 5th edition), which means the user experience is still a little clunky when compared to the latest Android and Windows phones. It is of course straightforward to use and navigate (it is a Nokia after all and you have seen it all before).

The 3.2-inch resistive touchscreen on the C5-03 is the same size as the capacitive screen on the HTC Wildfire, but smaller than the high end smartphones like the HTC 7 Mozart's (3.7 inches), the iPhone 4 (3.5 inches), or the Nokia N8 (3.5 inches). Though it may be smaller than some, the screen is sharp and videos are watchable.

The messaging features we have all come to expect from smartphones are all well represented, with SMS, MMS, Email, Ovi chat and useful apps for Google Chat and MSN messenger. These messaging features are a joy to use with the useful QWERTY keyboard featuring haptic technology which offers comforting feedback every time you hit a letter.

The camera in the Nokia C5-03, while certainly not up to a head to head with a HTC Wildfire or Mozart, is certainly functional with a 5 megapixel sensor. However, for some strange reason the LED flash included in the previous model, is no longer present.There is no built-in camera shortcut button either, which makes it harder to snap those spur of the moment pics. There are a number of recording options on the video camera, but they are limited, with record, low lightand night mode, but unless you're filming somewhere in good light conditions, the quality is not great.

Essentially the features which seperate the C5-03 from the previous C5, are limited to the touchscreen and Wi-Fi capabilities, with some other smaller additions which do lift the overall experience to a degree. That being said, its not a bad mobile phone. With that familiar intuitive interface, decent touchscreen, WiFi and great battery life.

| | |
| --- | --- |
| | |
Submit Your Own Review!