Home
»
Nokia
»
Nokia C1-01 black
»
Reviews
Nokia C1-01 black Review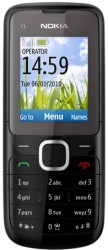 The C1-01 is a typical Nokia device. A great looking handset available in a wide range of attractive colours which is well within the budget of most people, but never the less comes with all the desirable features like a camera, FM radio, Bluetooth and USB connectivity. it appears to be yet another mobile from Nokia aimed at the so called "average" user, affordable, easy to use and featuring all the main technologies.

The retail box includes the handset itself, battery, compact charger, stereo headset and user guide. In typical Nokia fashion, once the battery is charged,the vast majority of people will be able to use all the main features of the phone with no need to consult the manual at all. if you neither want nor need the very latest features and state of the art technologies, you may find the Nokia C1 is made with you in mind.

The handset is a good size, small enough to fit into the majority of pockets, but not so small it is difficult to use. The actual dimensions are 108mm x 45 mm with 45mm and the handset weighs just 78.8 grams. At just 1.8 inches, the TFT display is not exactly class leading, but the screen does have 65K colours and a resolution of 128 x 160 pixels. Polyphonic and MP3 ringtones are supported and there is a handsfree earphone with industry standard 3.5mm audio jack. The built in MP3 music player is certainly good enough for most users and provides decent sound quality and includes an FM radio with recording function). The included VGA camera takes photos or videos (photographs are 640 x 480 pixels and has video recording capability of up to 10 frames per second). The lack of some of the newest technologies has an advantage, namely talk of up to 11 hours from a single battery charge.

The Nokia C1 also offers photo calls, up to 32GB of memory vias Micro SD slot, text and picture messaging, email and internet browsing with included WAP 2.0 browser (which supports EDGE and GPRS connectivity). You can also send and receive the files to other mobiles or the computer via Bluetooth or USB Cable.

A perfect handset for mobile novices or for those who desire straightforward functionality from their mobiles, the Nokia C1-01 is a rugged phone, which works well and has excellentt battery life. If you can do without advanced features such as 3G data, it's certainly worth a look.

| | |
| --- | --- |
| | |
Submit Your Own Review!