Home
»
Nokia
»
Nokia Asha 302 white
»
Reviews
Nokia Asha 302 white Review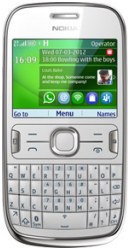 The Nokia Asha 302 is one of Nokia's newest phones, a feature phone rather than a fully fledged smartphone, this device was created for the fast expanding markets of the developing world. This is an area where Nokia is very powerful as their Series 40 platform offers is affordable, intuitive and still reasonably feature-rich - perfect as a first handset in other words, so tailor made for the new mobile markets of the third world. However, there are now some low-end touchscreen Android models on the market which are getting close as far as pricing, so Nokia may struggle to remain relevant in this market should Droid prices get any lower.

Nokia have crafted a beautiful handset in this case, the Asha 302 is one good-looking phone and manages to look a bit different too. Powered by a 1Ghz processor, the Asha 302 works well, 1Ghz may not sound much, but the Nokia S40 operating system is fairly undemanding. Even though this is a cheap handset, you still get both 3G and Wi-Fi onboard plus a good selection of apps including a particularly useful social networking app for sites such as Facebook, Twitter and Flickr. You can also download extra apps from Nokia's app store. In addition there is also a 3.2 megapixel camera, full QWERTY keyboard, QVGA touch display, microSDHC memory slot (can accept cards of up to 32GB in size), Bluetooth and FM Radio. Battery life is pretty good and you can get around two days of mixed use before needing a recharge.

The Asha 302 is a useful feature phone, particularly good for messaging with some decent social networking capabilities. The phone feels well built rather than being built down to a price, has a good qwerty keyboard and a decent range of features considering the low price. However, the small screen is less than ideal for web browsing and some entry level Android handsets with better features and a higher specification are now not much more expensive.
| | |
| --- | --- |
| | |
Submit Your Own Review!