Home
»
Nokia
»
Nokia Asha 203 black
»
Reviews
Nokia Asha 203 black Review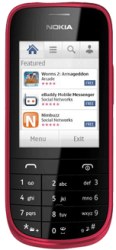 The Asha 203 is a basic handset which won't appeal to those looking for the latest and best of technologies. However it is very cheap and makes a great basic phone for calling, texting, social networking and simple games. The Nokia Asha 203 is essentially just an Asha 202 without the support for dual SIMs so no extra SIM slot on the side. Pretty much everything else is the same, it's the same candy bar design edged in metal trim with the traditional alphanumeric keypad under a 2.4-inch resistive touchscreen (note this is not the capacitive type touchscreens found on most modern smartphones).

The Asha 203 features include a basic 2-megapixel camera, Nokia's Series 40 operating system and 40 EA games that can be installed for free during the first two months of ownership. Nokia operating system may seem a little low-tech to other smartphone users, but it's an easy and intuitive system to use with the emphasis on navigating to stuff quickly with the minimum of key presses. The 203 can be easily be hooked into your Facebook account to post and view updates right from the home screen, but you will definitely need to expand the dismal 10MB of on-board memory with a microSD card (supports up to 32GB). Despite the small screen, the Nokia web browser is pretty good and also support Flash. The phone also supports suprising number of messenger formats including Google Talk, Yahoo!, Windows Live Messenger and Nokia Chat services).

The phone has Nokia Music Manager preloaded with noise cancellation and supports a wide variety of music formats (MF, WAV, MP4, AAC, AMR, MP3, WMA, 3GP and MIDI). There is also a nifty voice recording feature.

The retail pack includes the Nokia Asha 203 handset, a Nokia Charger AC-11, Nokia Battery BL-5C 1020 mAh and a Nokia Stereo Headset WH-102. This handset is a real bargain for those looking for a basic handset for mainly making/receiving calls and texts but with some useful added features.
| | |
| --- | --- |
| | |
Submit Your Own Review!