Home
»
Nokia
»
Nokia Asha 200 black
»
Reviews
Nokia Asha 200 black Review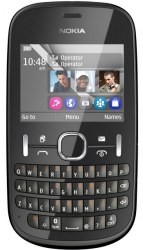 The Asha 201 is powered by Nokia's Series 40 operating system, which is a bit old in the tooth these days, so essentially you could describe the Asha 201 as a "smart feature phone" or even "smart phone lite". Despite the aging operating system, the Finnish company have included some smart phone type features, for instance Facebook and messaging notifications are displayed on the small home screen. However, the Nokia Asha 201 does sit right at the bottom of the budget end of the market, so it would be unrealistic to expect an iPhone 4S rival! But this budget sector does include some decent phones such as the C3 and LG Cookie Lite, or for slightly more cash the Samsung Tocco Icon. So cheap is not enough, the Nokia Asha 201 has to be good to succeed in this market.

Naturally, there's no 3G or Wi-Fi on board in this price range, so web browsing can be a bit tedious. If you want to spend a lot of time using mobile internet you really should be looking at a fully featured smartphone and spending a lot more cash. But if you want a basic phone for making calls, some social networking, messaging and listening to music (using the FM radio or listening to your music collection courtesy of the 32Gb microSD card slot), the Asha 201 offers a lot of value for very little cash.

The screen on the Asha 201 is just 2.4 inches, but it manages to pack a lot into this small space - social updates, calendar appointments, favourite contacts, email, chat communities and shortcuts to your most used apps. It's not a touchscreen, navigation is done using the multi-directional Navi key and twin selection keys below. The Nokia Series 40 operating system feels very dated. Navigation on the Asha 201 feels quite nostalgic, noticably lacking any of the slickness found on modern high powered devices - but it is simple and quite intuitive to use, if a little slow.

For such a budget handset, the design is pleasing and the handset fits nicely in your hand and build quality feels very sturdy. The tested handset was the Asha 201 Black but the 201 is available in grey, green, pink, orange, white and aqua, with some retailers only offering one particular colour, Vodafone for instance is only offering the Asha in white, with a plan to introduce the grey model at a later date.

Battery life is well above average with up to seven hours of talk time over a 2G network and up to 52 hours of music playback, but that's no surprise with no power hungry features on board such as 3G or Wi-Fi and such a small screen. You'll easily get a full day's use out of a single charge with plenty in reserve.

The Nokia Asha 201 offers of features, considering the price. It may not offer 3G or Wi-Fi. But you can stay connected with Facebook and email and even browse online on a low budget. Cheap and cheerful, nice design and decent social networking.

| | |
| --- | --- |
| | |
Submit Your Own Review!