Home
»
Nokia
»
Nokia 700 black
»
Reviews
Nokia 700 black Review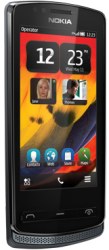 According to Nokia, the 700 is the world's smallest smartphone. Running the new Symbian Belle interface, the 700 is indeed small. The sleek frame features a 3.2 inch AMOLED ClearBlack touchscreen, double cameras (5 megapixel and VGA) and an external speaker. This compact (just 92g and 9.7mm thick) is indeed pretty stylish with a sturdy construction and bright, clear screen. The Nokia 700 runs the latest version of Symbian, Belle. Belle offers a number of improvements over the previous versions of Symbian including up to six home screens that you can personalise with apps and widgets, which then show the live information that interests you on the homescreen at all times. Belle also supports NFC (near-field communications) which means that the 700 can connect with enabled devices much like an Oyster card. Payments using NFC are not yet common in the UK but are slowly being integrated into Britain's stores, so, in the near future you'll be able to tap your phone on a reader to instantly make a payment without using any cash. Right now though NFC's usefulness is pretty limited.

Despite Nokia embracing other operating systems recently, Symbian Belle is pretty neat and reminiscent of Android 2.3 Gingerbread. If you're an Android user, it won't take very long at all to get used to this latest incarnation of Symbian. The 700 runs on a 1GHz processor, which makes the handset pretty nippy with no lagging problems when using apps. Even though the 700 does not use a powerful dual-core processor like the Samsung Galaxy S2 or HTC Sensation, it still produces good performance, especially for the price.

This latest version of Symbian also supports Flash so you can watch video embedded in websites through the browser. Unfortunately it does not support tabbed browsing, but it's simple enough to switch between multiple open pages. Web pages look decent on the screen despite the modest size and having to type addresses using the miniature keyboard is a bit tedious after a while. But overall, web browsing is a pleasant experience.

The 3.2 inch screen offers 360x640 pixel resolution and does a reasonable job of displaying text on busy Web pages. It's an AMOLED screen, so it's very bright and pictures and video look very good. Probably too small to watch full length movies but YouTube clips are fine and there are no problems viewing the display in direct sunlight..

The 5-megapixel camera with an LED flash on the back of the phone produces decent photos but this is not a phone for photography enthusiasts with many handsets on offer with better photo capabilities, its fine for occasional snaps however and shoots 720p video as well. You even get a front-facing VGA camera for video-calling.

Nokia has produced a decent all-rounder with the 700 and if you are looking for a stylish smartphone with all the main features without spending a fortune the Nokia 700 should definitely be worth a look.

| | |
| --- | --- |
| | |
Submit Your Own Review!