Home
»
Nokia
»
Nokia 5228 black
»
Reviews
Nokia 5228 black Review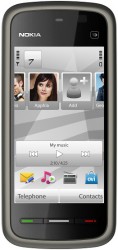 This device is another Nokia touchscreen handset using resistive touch technology, as can be found on a whole host of Nokia devices. The main advantage of resistive touch technology is the capability of using a stylus, which can then support handwriting recognition technology. This technology can take a bit of getting used to, but most users find it doesn't take very long to achieve respectable word per minute rates. The Nokia 5228 screen measures 3.2 inches with support for up to 16 million colours and a resolution of 360 x 640 pixels. The screen also features auto rotation (landscape to portrait or vice versa) using a built in accelerometer and even a proximity sensor which disables the touchscreen when it is resting against your face when making or recieving a call (this prevent calls being accidentally ended by touching the screen with your face).

The 5228 is powered by Nokia's Symbian operating system, which offers access to a wide range of third party apps. There are thousands of apps available to download onto the phone due to the fact that Symbian has been around for many years. The one area where the Nokia 5228 underperforms is data transfer and downloads, with no HSDPA, or even 3G. The Nokia 5228 relies on GPRS which is ok for general web browsing and social networking, but painfully slow for downloading music or uploading pics. This alck of high speed data transfer is offset somewhat by the excellent music player. The handset supports all popular digital music formats such as MP3, AAC, eAAC+, WMA and WAV. With on board memory of 70Mb expandable right up to 16 GB with a Micro SD card.  The 5228 also uses a standard 3.5mm audio jack which allows you to use your own personal headphones (with support for Bluetooth with A2DP so stereo wireless Bluetooth headsets can be adopted). There is also an FM stereo radio with RDS support.

The digital camera included is a basic 2.0 megapixel unit, although it perfoprms better than the specification may suggest with high resolution video clips captured at 30 frames per second and fairly decent quality. The 5228 is a lightweight device measuring just 111 x 52 x 15mm and weighing in at 113g. While there is nothing much new or revolutionary with the Nokia 5228, the low pricing, dependability and familiarity, will be enough to keep many users happy. Though some technological features are absent, most of the features are present and, more importantly, are easy to use.

| | |
| --- | --- |
| | |
Submit Your Own Review!