Home
»
Nokia
»
Nokia 500 green
»
Reviews
Nokia 500 green Review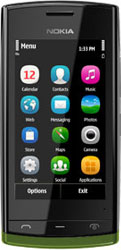 For those that still prefer Nokia and the Symbian platform, and are looking for a budget smartphone, the Nokia 500 might just suit you. The Nokia 500 is a low budget handset with a 3.2 inch HD capacitive touchscreen, a 1GHz processor, virtual QWERTY keyboard, split screen messaging, 5 megapixel camera, Bluetooth 2.1, A-GPS, WiFi and of course the latest Symbian Anna operating system. Measuring just 110 x 53 x 14mm, the Nokia 500 is available in two colour variants, with a range of eight coloured interchangeable back plates, in this review we are examining the Nokia 500 green.

Although priced in the budget category, the Nokia 500 isn't a bad looking smartphone which has a lot to offer in terms of stability, and features. The recently announced Symbian Anna OS offers a level of usability missing from recent Nokia devices. In fact, the new Anna OS (and the more recent Belle - available to the Nokia 500 as an upgrade in the near future), is a viable alternative to the Android and Apple devices on the market with many industry experts stating that the latest Symbian devices may even rival the very latest Nokia Windows Phone handsets launched.

Powered by a nippy 1GHz processor, the Nokia 500 is fast and responsive in use at all times and is a major improvement over the tired Symbian devices we've got used to over the last few years. The Nokia 500 has a slick web browser backed up with HSDPA up to 14.4 Mbps and HSUPA of up to 5.76 Mbps, as a result the majority of web pages load quickly. Helped by the connectivity option no doubt with 3G, EDGE, GPRS and WiFi all included. The better than average onboard media player supports playback for most popular digital formats such as MP3, MP4, WAV and WMA. A standard 3.5mm audio jack is also welcome which allows you to use your favourite headphones for listening to music playback, you can also use a wireless Bluetooth headset thanks to support for Bluetooth with A2DP.

In summary, the Nokia 500 Green has a great spec list for the price making it a competent smartphone, the latest Symbian Anna operating system is easy to get to grips with and very slick (Android like in many ways). Although there still does seem to be some prejudice amongst phone users who found Symbian a poor relation to Android and iOS, Symbian Anna and Belle devices have a lot to offer, in fact it's hard to think of any major disadvantage with the latest Symbian devices when compared to the more popular operating systems out there - try the new and improved Symbian on the 500, it compares well to competitors such as the Galaxy mini, Galaxy Ace, and the Nokia C5-03, you wont be disappointed!

| | |
| --- | --- |
| | |
Submit Your Own Review!