Home
»
Nokia
»
Nokia 1800
»
Reviews
Nokia 1800 Review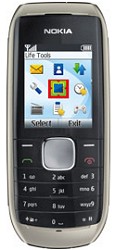 This Nokia 1800 is available in four different colours (blue, red, silver and black). This is a simple handset which has the benefits of ease of use simple communication in mind. A simple design, the 1800 is a candy bar type handset (solid bar shaped casing). Measuring just 10.7cm x 4.5cm wide x 1.53cm, the handset has a solid feel and at only 78.5 grams is comfortable to hold and use with one hand.

The screen initially seems small, being just 1.8 inches, but it's a TFT type display which supports up to sixty five colours and is more tham adequate. Just underneath the screen there is the standard Nokia navigation key which allows the user to easily select menus and options. Though there is a distinct lack of advanced features, the Nokia 1800 has useful functions such as a phone book feature which stores all contacts in one easily located menu, a built in calendar feature and a clock and alarm feature. The phone also comes with some preloaded games and there is a built in FM radio and even an integrated torch. The user can also create, send, receive and store basic SMS text messages on the Nokia 1800. The fully charged battery can provide up to 8.5 hours of talk time or 528 hours of standby.

The Nokia 1800 will be purchased by those interested in a reliable phone from a trusted brand, consumers who require a phone mainly for calls and texting, this phone handles both well and is easy to get to grips with. Another consideration is battery life, the Nokia 1800 has a long battery life, mainly due to the lack of advanced smartphone type power sapping features. If you are looking for a basic reliable phone, you won't be disappointed with the Nokia 1800. It's as cheap as chips and has everything basic phone users require, plus some extras like the stereo headset, built-in FM radio, a calendar and alarm clock and a useful flashlight function to help you see in the dark. Available for around a tenner on PAYG, or free on a low cost contract with lots of inclusive call minutes and texts. In addition the Nokia 1800 is so simple to use, you can easily be using the phone comfortably within minutes, even if its your very first mobile phone. Once you have charged the battery and inserted the SIM card, the manual is rarely required. This makes the Nokia 1800 a perfect gift for those who have so far resisted owning a mobile phone!

| | |
| --- | --- |
| | |
Submit Your Own Review!