Home
»
Nokia
»
Nokia 113 black
»
Reviews
Nokia 113 black Review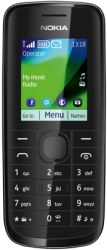 Nokia seem to be struggling with their smartphone stage due to the increased competition from the likes of Apple, HTC, Samsung and LG. However, their feature phones (aka dumbphones), are still the best around, with the Nokia 113 being a good example. The 113 pretty much has everything you need from a basic phone. A large, easy to use keypad, 32GB of microSD capacity, a range of colours (black, magenta, lime green and cyan), VGA camera, Stereo FM radio, Bluetooth and GPRS. Measuring 14.8mm x 110mm x 46mm, the Nokia 113 is fairly compact and weighs in at just 88g. On standby the battery will last for around 550 hours (making this a great choice for an emergency phone that can be left in a car), and the Symbian operating system may be old but it's so intuitive to use that even a complete technophobe will be using social networking sites in minutes.

The 32Gb of storage should be plenty for people's photos and media needs, however, the VGA camera won't win you any photography competitions! But with such low prices there are always some compromises and you are unlikely to get anything much better in this price range. It can be hard to get excited about budget mobile phones, but the Nokia 113 really is a decent little handset that offers fantastic value. This candybar phone is stylish and comfortable in the hand, great for texting and social networking. There are useful home screen buttons which give you instant access to Facebook and Twitter, web browsing is quick and easy using compression for faster downloads, and the media player is nice and loud with very little distortion even when played through the in-built speaker.

So you can play and share music, keep in touch via email and instant messaging, take snaps with the VGA camera, use the Bluetooth capabilities to share with friends, and find tons of great apps from the Nokia Store. The Nokia 113 will more than sufficient for those who simply require a no-nonsense, reasonably stylish handset. This handset marks the return of the Nokia we all used to love, solid, comfortable to use and with enough capabilities to please most users.
| | |
| --- | --- |
| | |
Submit Your Own Review!