Home
»
Motorola
»
Motorola Wilder
»
Reviews
Motorola Wilder Review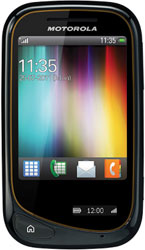 The Motorola Wilder is a splash and dust resistant mobile phone to compete with rival handsets such as the JCB Sitemaster. The Motorola Wilder is marketed as a phone that can survive anything you can throw at it. The handset features a 2.8 inch QVGA touch screen and offers all the technology most modern consumers expect from a Smartphone without the usual high prices. Actually it does not have a smartphone operating system, and can more accurately be described as an extremely affordable feature phone. Aimed at the younger audience, the Wilder comes preloaded with social applications like YouTube, Twitter and Facebook. This toughened handset which is splash and dust resistant also offers a 2 megapixel digital camera and an FM radio.

However, even though the Wilder's big selling point is its durability, they don't claim its waterproof like the Motorola Defy which is capable of surviving underwater for 10 minutes.  Rather, the Wilder is built to survive being used in a rain shower on your way home. The handset does have a plasticky look and feel to it, in fact the yellow trim  model looks like a power tool or Tonka toy, but even though durable it doesn't actually feel that sturdy in your hand. In addition you do have to ensure the handset is fully sealed properly after removing the battery cover.

The Motorola Wilder has a 2.8 inch resistive touchscreen. being a resistive screen, it is not as responsive as the more modern capacitive screens. This, combined with the small overall size of the screen, can make the touchscreen frustrating to use. The phone features a very basic 2 megapixel fixed focus camera which produces a picture quality which can best be described as adequate. In poor light conditions the quality is even worse as there is no flash. On the plus side the dedicated camera button makes it easy to use.

The music player is also average in performance with the included headphones, after market phones can improve this somewhat but the controls are difficult to use even though the player categorises tracks well. Internet access is possible but with no 3G or wi-fi connectivity this can be slow and frustrating. The small screen with its low resolution does not help the internet experience either.

For those who are looking for all the basic phone features in a durable dust and splash resistant handset, without paying the top whack for a high end smartphone. The Motorola Wilder could fit the bill. It has little in the way of features that stand out, but does nothing particularly badly either.

| | |
| --- | --- |
| | |
Submit Your Own Review!