Home
»
Motorola
»
Motorola RAZR MAXX
»
Reviews
Motorola RAZR MAXX Review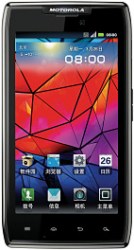 Aside from the battery size, the only real difference between the original Razr and the Maxx is the design. The new Razr Maxx still looks good, but a little of the design flare and minimalist style has been replaced by a bigger battery. The Maxx is also slightly heavier than the original Razr, but only by about 18g, so hardly noticeable in everyday use.

While the earlier Razr struggled to last a full day, much like all smartphones, this latest model will last a day and a half easily and up to two full days with a bit of common sense power management. This means that heavy users can do pretty much anything they want with the phone during the day, but still have some charge remaining when they get home in the evening. There are tablet devices on sale with smaller batteries than the Razr's 3300mAh unit!

Of course there is more to the Maxx than just the battery, battery aside it is after all a Motorola Razr smartphone, and like the Razr it offers a wide range of features. The touchscreen is really good, even outdoors in bright light conditions, indoors it's a joy to view and watching video is a pleasure. One downside is the fact that the handset is still shipping with Android Gingerbread rather than Googles latest operating system version, Ice Cream Sandwich. When the original Razr was launched last year it was announced an update to Ice Cream Sandwich would be available in the new year - but the Razr is still shipping with Gingerbread today (June 2012) despite the fact Google, in a hilarious turn of events, now owns Motorola but cant seem to get the latest version of it's own operating system installed!

The Razr camera is pretty good however, decent colours and detail some pretty strong photos in good light, the auto-focus is a bit slow but you get full HD 1080p video recording and the Razr Maxx will handle all of your social networking and email needs too. There is a fabulous music player with DLNA support, Swype and all the hardware that made the original Razr such a good phone.

There is not much difference compared to the last Razr, the Maxx looks slightly different but it's still the same great phone - but now with a fabulous battery. if you want a capable Android smartphone but need lots of battery life, the Razr Maxx is it. There is no other smartphone with a longer lasting battery and for a lot of people that will be reason enough to choose the Maxx over other Android devices.
| | |
| --- | --- |
| | |
Submit Your Own Review!